Rays of The Harmonist
Serving Śrī Guru with Heartfelt Affection (Part 2)

The Incomparable Affection and Compassion of Śrī Guru and Vaiṣṇavas

My Friend Renders More Intimate Service Than I Can
Featured: Damodarastakam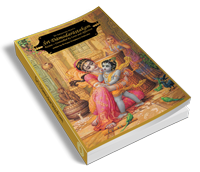 For thousands of years, devotees have sung Śrī Dāmodarāṣṭakam, especially in the revered month of Kārtika. These eight verses mark the profound blossoming of Śrī Satyavrata Muni's love for Śrī Dāmodara, as he prays, "Please appear before me in Your beautiful, eternal form as a young cowherd-boy, and grant me the perfection of life." The true meaning of this prayer remained mostly hidden until the late 1500s, when Śrīla Sanātana Gosvāmī wrote his elucidating commentary. Śrī Śrīmad Bhaktivedānta Nārāyaṇa Gosvāmī Mahārāja's lively and poignant supplementary commentary serves to make these essential meanings even more accessible.
Details

Vidura was the prime minister of King Dhrtarastra. He was an extremely religious person, a very high class of devotee who was fully surrendered to Sri Krsna. He knew past, present and future. He saved the five Pandavas from burning in the house of lac and he protected them on several other occasions...
Details

After hearing from the gopis, and especially after hearing Brahmara-gita from Srimati Radhika, Uddhava was astonished. He was especially astonished to hear and see Srimati Radhika's divyonmada, of which citra-jalpa is one of the features, and which is one of the symptoms of Her adhirudha-modana-mahabhava.
Details

We have been staying in Delhi at Sri Sri Ramana-bihari Gaudiya Matha since October 7th, and will do our best to share our experiences over the past 10 days. Usually we don't write a photo-tour report with devotees' personal experiences and feelings, but this is such a heartfelt time that we beg your permission to do so.
Details

Purebhakti.com is a place of pilgrimage on the web for it is the home of Srila Gurudeva's Harikatha and reservoir for over hundred of his books across three different languages, for download, as well as all issues of the Rays of the Harmonist, and the Harmonist Monthly online edition. Purebhakti.com also host the Vaisnava Calendar for approximately 470 locations around the world.