Rays of The Harmonist
Chanting the Names of God and See Him With Eyes of Love

No Worldly Matter Should Engage My Thought

Men act like infants
Featured: The Butter Thief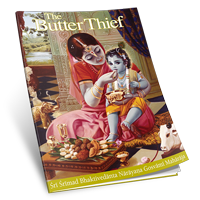 This small book, "The Butter Thief," is a summary study of one of the most remarkable and illuminating pastimes of Śrī Kṛṣṇa, the Supreme Personality of Godhead. This pastime is found in the venerable Bhāgavata Purāṇa, considered by self-realized authorities and scholars as the ripened fruit of the vast tree of Vedic literature.
Details

We have completed the explanations of the first two slokas quoted and discussed by Srila Visvanatha Cakravarti Thakura in his Raga-vartma-candrika, but in summary. The first sloka is:
krsnam smaran janam casya prestham nija samihitam
tat tat katha ratas casau kuryad vasam vraje sada
Details

Whether or not maha-aisvarya is present, if Krsna's pastimes are nara-lila, then it is madhurya. On the other hand, if by the presence of maha-aisvarya Krsna knows that, "I am Isvara, God," and His bhakta also knows that He is God, that is aisvarya-lila.