Rays of The Harmonist
"Gauḍīya Vedānta", "Śrīla" & "Śrī Rūpānuga-dhārā"

Porridge and Mortar

Vinoda and Vinoda-bihārī
Featured: Krti-Ratna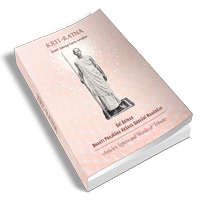 Śrī Śrīmad Bhaktivedānta Nārāyaṇa Gosvāmī Mahārāja was always extremely eager to extol the superlative character and precepts of his beloved gurudeva, Śrī Śrīmad Bhakti Prajñāna Keśava Gosvāmī Mahārāja, one of the foremost disciples of Śrī Śrīmad Bhaktisiddhānta Sarasvatī Ṭhākura Prabhupāda.
This book is divided into four parts. Parts 1 and 2 consist of articles and letters by Śrī Śrīmad Bhakti Prajñāna Keśava Gosvāmī Mahārāja. Part 3 consists of words of tribute by his godbrothers and a godsister, and Part 4 consists of homages by his own disciples.
Details

First I explained abhista-bhava-mayi, which may be in an unripe or ripe stage. In the stage of sadhana it is the absorption that "We are gopis;" and in the siddha stage we will actually become gopis. In both cases, it is abhista-bhava-mayi.
Details

We have completed the explanations of the first two slokas quoted and discussed by Srila Visvanatha Cakravarti Thakura in his Raga-vartma-candrika, but in summary. The first sloka is:
krsnam smaran janam casya prestham nija samihitam
tat tat katha ratas casau kuryad vasam vraje sada
Details

Whether or not maha-aisvarya is present, if Krsna's pastimes are nara-lila, then it is madhurya. On the other hand, if by the presence of maha-aisvarya Krsna knows that, "I am Isvara, God," and His bhakta also knows that He is God, that is aisvarya-lila.