Rays of The Harmonist
Men act like infants

The Ultimate Goal of Life

Do Vedic Brāhmaṇas Know the Truth? Part 2 of 2
Featured: Sri Radha-krsna-ganoddesa-dipika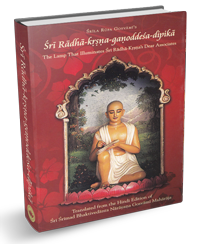 In this book Śrīla Rūpa Gosvāmī has given a brief yet vital description of the names, forms, qualities and different services of Śrī Rādhā's and Śrī Kṛṣṇa's cherished companions. Such a comprehensive description of Śrī Kṛṣṇa and His companions is not found in any other single scripture.
Kolkata City Bus from the Airport
Details
Yes, they exist. They may be very crowded and uncomfortable, and there is no provision for your luggage. It costs about Rs 10. It would be better to take the taxi.