Rays of The Harmonist
Chanting the Names of God and See Him With Eyes of Love

No Worldly Matter Should Engage My Thought

Men act like infants
Featured: The Butter Thief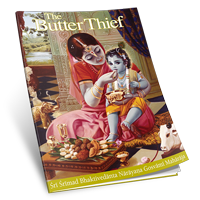 This small book, "The Butter Thief," is a summary study of one of the most remarkable and illuminating pastimes of Śrī Kṛṣṇa, the Supreme Personality of Godhead. This pastime is found in the venerable Bhāgavata Purāṇa, considered by self-realized authorities and scholars as the ripened fruit of the vast tree of Vedic literature.
Kolkata - Navadvipa Trains
Details
There are two classes of trains available. One is an express train, and the other is a local train. The express train, besides being faster, is more comfortable and better if you are carrying luggage. There is also a lower chance of theft on these trains. Howrah station and the local trains are quite notorious for pickpockets and luggage theft, so be very careful with your valuables!