Rays of The Harmonist
No Worldly Matter Should Engage My Thought

Men act like infants

The Ultimate Goal of Life
Featured: Sri Radha-krsna-ganoddesa-dipika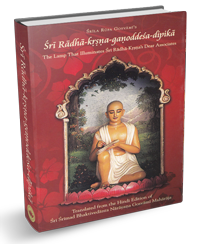 In this book Śrīla Rūpa Gosvāmī has given a brief yet vital description of the names, forms, qualities and different services of Śrī Rādhā's and Śrī Kṛṣṇa's cherished companions. Such a comprehensive description of Śrī Kṛṣṇa and His companions is not found in any other single scripture.
Kolkata - Navadvipa Bus
Details
This is not a recommended option and having anything more than hand luggage would be a problem. There are buses from Kolkata to Krishnanagar. From there you would need to take a different bus to "Navadvipa Rail Gate". From there you would need to take a rickshaw. Buses depart from the airport "Ek Nambar Gate", an Rs 10 rickshaw ride from the terminal. The buses are normally going to Malda or Borampur with a stop in Krishnanagar. There is also a bus from the ISKCON temple in Kolkata to the ISKCON Mayapura temple (the opposite side of the river), but as the Kolkata ISKCON management is extremely offensive to Srila Gurudeva I would sooner walk to Navadvipa instead.