AN INVITATION TO THE 2018
Sri Rupa Goswami Conference on Vaishnavism
VRINDAVANA'S PREMIER SEMINAR ON VAISHNAVISM FOR THREE DECADES

under the auspices of
Srila Bhaktivedanta Narayana Goswami Maharaja
AUGUST 23 · 24 · 25 · 2018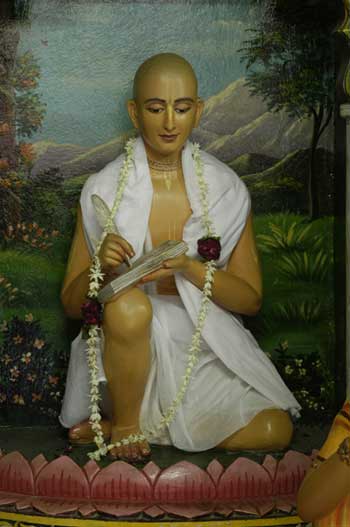 Srila Rupa Goswami is revered in the Gaudiya Vaishnava community as the chief of the Six Goswamis, the direct disciples of Sri Chaitanya Mahaprabhu. His voluminous body of literature –treatises, dramas, and poetry – were written following the instructions of Sriman Mahaprabhu and comprise the theology of Gaudiya Vaishnavism.
For thirty years, the Rupa Sanatana Gaudiya Math, under the guidance of Srila B.V. Narayana Maharaja, has held a conference (conducted in Hindi) to discuss the glories of Srila Rupa Goswami. Fourteen years ago, Srila Maharaja began English morning sessions, and they continue at nearby Gopinath Bhavan. The conference is a forum for Vaishnavas and scholars to speak on the glories of Srila Rupa Goswami and various aspects of Vaishnavism in relation to him, as well as to engage in extended discussion on these subjects. It is meant to enliven the Vaishnava community with topics that are relevant to their devotional practice and about which they are eager to hear.
It is my honor on behalf of the conference to invite you to attend the Sri Rupa Goswami Conference on Vaishnavism. An international assembly of distinguished scholars will be speaking and we welcome your participation. We don't expect a large crowd to the English morning sessions, but we do promise a comfortable assembly of like-minded scholars and attentive listeners. The venue is on the top floor of Gopinath Bhavan, which is located on the Parikrama Marg next to Imli Tala in the Seva Kunj area. Our Program is listed below.
Last year, for the first time, we began live streaming of the Rupa Goswami Conference. It will be continued this year. You can view the videos on the following Facebook address: https://www.facebook.com/Rupa-Goswami-Conference-123213948300853/. We will be posting the videos as the conference is in session, but they can also be viewed on the Facebook page at any time.
The Rupa Goswami Conference now has a Youtube address: https://www.youtube.com/channel/UCiMohk9SKrmm8f-eYG2K8MQ We are in the process of uploading videos of past conferences.
Your servant,
Manjari dasi
To view and/or download lastest schedule update in pdf format, click here.
PROGRAM
SRI RUPA GOSWAMI CONFERENCE ON VAISHNAVISM
VRINDAVANA'S PREMIER SEMINAR ON VAISHNAVISM FOR THREE DECADES
under the auspices of Sri Srimad Bhaktivedanta Narayana Gosvami Maharaja
AUGUST 23 · 24 · 25 · 2018
Gopinath Bhavan · Rupa Sanatana Gaudiya Math · Vrindavan
THURSDAY · AUGUST 23 · Srila Rupa Gosvami Tirobhava Mahotsava
Sunrise Lectures · Rupa Gosvami's Samadhi
Conference Breakfast · 8:15 · Doughnuts and Kicheri
Morning Session Gopinath Bhavan · 8:45 to 12:30
Bhakti Sangita Yan Kali Rupa Sriman Krsnadasa
Sri Padmanabha Goswami Introduction to the Rupa Goswami Conference
Srimad BV Visnudaivata Maharaja Viralambha Rasa of Srimati Radhika in Sri Rupa
Gosvami's Ujjvala Nilamani
Srimati Vrindavana Vilasini dasi Mahaprabhu's Dearest Antaranga Devotee
Srimad BV Padmanabha Maharaja To Be Announced
Sri Pancha Gauda dasa Sri Upadesamrta
Sri Mukunda Datta dasa Sri Ujjvala-nilamani
Sri Rohininandan dasa To Be Announced
Srimad BV Madhava Maharaja To Be Announced
Bhakti Sangita Sri Purushottam Babaji
Evening Session Rupa Sanatana Gaudiya Math · 5:00 to 8:30
Mangalacharana/ Sabhapati Srimad Bhaktisarvasva Govinda Maharaja
Chief Guest Sri Padmanabha Goswami
Moderator Srimad Bhaktivedanta Tirtha Maharaja
Distinguished Speaker Sri Ramachandra Prabhu
Speakers Srimad Bhaktivedanta Sridhara Maharaja, Srimad Priyananda Vana Maharaja, Srimad Bhaktivedanta Narasimha Maharaja, Sri Tamala Krsna Brahmacari, Sri Vamsivadana Brahmacari, Sri Uttama Krsna Brahmacari
FRIDAY · AUGUST 24
Conference Breakfast · 8:15 · Cinnamon Rolls and Flat Rice with Kadhi
Morning Session Gopinath Bhavan · 8:45 to 12:30
Bhakti Sangita Sri Rupa Manjari Pada Sri Jahnava devi
Ram Shraddha dasa To Be Announced
Kumari Savita What is the Mano'bhistha of Mahaprabhu?
Ramesh dasa What is the Speciality of Rupa Goswami
Tosan Krishna dasa We Have Met the Enemy and He is Us
Srimati Savitri dasi Rupa Goswami, Distributor of Supreme Consciousness
Abhishek Goswami To Be Announced
Srimati Uma Didi Rupa Gosvami's Visesa Avadana
Srimad BV Vana Maharaja The Glories of Rupa Gosvamipada
Bhakti Sangeet Srimad Paramananda dasa Babaji Maharaja
Evening Session Rupa Sanatana Gaudiya Math · 5:00 to 8:30
Sabhapati Dr. Acyuta lal Bhatta
Moderator Srimad Bhaktivedanta Madhava Maharaja
Distinguished Speaker Srimad Bhaktivedanta Vana Maharaja
Speakers Sri Paramesvari Brahmacari, Sri Madhava Priya Brahmacari, Sri Sanjaya Brahmacari, Sri Rohininandana dasa, Sri Dhira Krsna dasa, Sri Radhanatha dasa,
SATURDAY · AUGUST 25
Conference Breakfast · 8:15 · Dokla with Imli Chutney and Pakoras
Morning Session Gopinath Bhavan · 8:45 to 12:30
Bhakti Sangeet Sri Madhukar dasa
Sri Srivatsa Goswami The Fruit of Rupa Goswami's Seva, Sri Govinda Deva
Sri Krsna Karunya Brahmacari The Hidden Meaning of Srila Rupa Goswami's Definition of Uttama Bhakti
Srimati Vichitri dasi Rupa Goswami's Heaps of Treasures
Sri Nityananda dasa The Music of Rupa Goswami's Poetry
Srimati Poonam dasi The Glories of Rupa Goswami
Sri Vasanta dasa Tan Nama Rupa Caritadi
Sri Dhira Krsna dasa The Sequential Development of Prema Bhakti
Dr. Achyuta lal Bhatta Parakiya Bhava and Upapati Bhava, From the Perspective of Rupa, Jiva, and Visvanath
Evening Session Rupa Sanatana Gaudiya Math · 5:00 to 8:30
Sabhapati Srimad Prema dasa Babaji Maharaja
Moderator Sri Radha Madhava dasa
Distinguished Speaker Srimad Bhaktisvarupa Govinda Maharaja
Speakers Srimad Bhaktivedanta Visnudaivata Maharaja, Sri Jitendra dasa, Sri Krsna dasa, Sri Sundargopala dasa, Sri Gokulacandra
dasa
To view and/or download lastest schedule update in pdf format, click here.