13th Annual New Braja Hari Katha Festival June 12th - 18th, 2008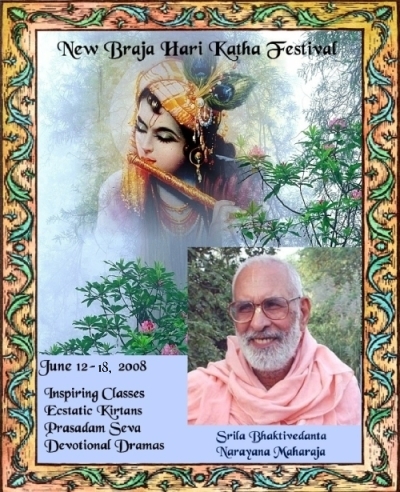 Please note: The last day of the festival has been changed to June 18th. Srila Gurudeva will be leaving on the morning of the 19th.  We sincerely apologize for any inconvenience.
Please join us for seven days of nectarean Hari Katha in the serene foothills of the Sierra Nevada mountains with our honored guest His Divine Grace Sri Srimad Bhaktivedanta Narayana Gosvami Maharaja.
Watch a video of a previous festival at this link.
Accomodations in New Braja
Free on-site camping with outdoor bathrooms and warm showers, bring your own tent, sleeping mats and warm bedding (nights can be chilly)
Closest motels are located in the city of Three Rivers or Exeter, 45 MINUTE DRIVE from Badger:
Best Western Holiday -(888-523-0247)
Sierra Lodge(*)-(559-561-3681)
Holiday Inn Express -(559-561-5900 )
Kaweah Motel (*)-559-592-2961
There is one cabin available 8 miles from festival site.
If you need to stay at a motel please arrange your own accomodation ASAP.
Motels denoted by (*) have lower prices.
DIRECTIONS TO FESTIVAL SITE
from San Francisco or Los Angeles
Get on Hwy 99 (99 SOUTH from San Francisco, 99 North from LA), to Visalia exit. Take Hwy 198 EAST to Lemon Cove.  Just after passing through Lemon Cove, Turn left immediately past the Prince Mart Gas Station/store (on left) onto Hwy 216.  Approximately a half mile up, cross the Kaweah river bridge and take an immediate right onto Dry Creek Drive. Drive for approx. 16 miles, then you will reach a fork, bear to the right onto Stagecoach Road. Continue on 2 miles and then turn left onto Eshom Valley Drive. The Festival site is at 51869 Eshom Valley Drive, about 6/10 of a mile, at the home of Nirguna dasa and family.
(Please follow directions carefully and do not use directions from

  Google, Mapquest, Yahoo, etc., as the directions are not accurate.)
Driving time is approximately four hours (260 miles) from LA airport and about five hours (320 miles) from the San Francisco airport.

Govardhana Puja Festival

Each year Srila Gurudeva personally oversees the worship of Sri Govardhana Hill. This year the Annakuta Maha Mahotsava Giri Govardhana Festival will take place on Sunday June 15, 2008This ecstatic festival is held in the same way as the Annakuta festival during Braja Mandala Parikrama. Last year over 700 preparations were offered to Giri Govardhana and this year there is enthusiasm to make 1000 different preparations!

The festival kitchens will be dedicated to cooking for the 500+ devotees and guests that will be attending and cannot spare any ingredients.

All devotees and guests are requested to please bring their own ingredients for preparing their offerings for Govardhana. Some ideas of things to bring are dried fruits, nuts, candy, ready-made pie crusts, coconut, condensed milk, sugar, flour, and spices. Cake, muffin, and cookie mixes are also great. Perishable ingredients such as milk, butter, fresh fruits and vegetables can be purchased at the Badger Store (five minutes from festival site) or in Visalia (45 minute drive). It is wonderful for everyone to participate in this Annakuta Mahotsava and as always there are cooking facilities available in devotees homes. Those without transportation can give a list of ingredients to the local devotees who will go to Visalia on Friday morning, but space is limited. Planning in advance what you would like to offer to Govardhana and bringing some things with you will save yourself and the organizers time, and help the festival run smoothly.

Sponsor a Feast Preparation

Any devotees who would like to sponsor a preparation for the Annakuta feast please contact Nilacala didi.

The average cost per preparation is $150 - $200. You may sponsor one of the regular preps such as halava, puris, or sweetrice, etc., or speak to Nilacala didi about a special request.

Contact Information

This year Govindarupini Didi will handling our correspondence and forwarding emails to the appropriate persons, if necessary.

  Please send your inquiries to :

Govindrupini Didi: This email address is being protected from spambots. You need JavaScript enabled to view it.

Nilacala Didi:  (559)288-1172, This email address is being protected from spambots. You need JavaScript enabled to view it.

Nanda Gopal dasa:  (559) 337-2448 , This email address is being protected from spambots. You need JavaScript enabled to view it.

For ride coordination from Visalia, Fresno and other areas, please contact Brajendranandana dasa: (559) 337-0084, This email address is being protected from spambots. You need JavaScript enabled to view it.

Please remember that this is a devotional gathering.

Parents will need to have children supervised at all times.

REGISTRATION INFORMATION

(Srila Gurudeva departs on the morning of June 19th).

Registration Fee includes 3 meals per day.

Early Registration Discount Fee:

Book before May 21st, 2008 and save!

FEES: ADULTS: $12.00 PER DAY

CHILDREN: $9.00 PER DAY (10 AND UNDER)

(Children 5 yrs. and under: FREE)

Registration After May 21, 2008:

FEES: ADULTS: $15.00 PER DAY

CHILDREN: $12.00 PER DAY (10 AND UNDER)

(Children 5 yrs. and under: FREE)

Registration Form Instructions

   1. Please complete the appropriate registration section below.

   2. Fill in your name and address, and tell us whether you will be camping on-site.

   3. Mail the registration form with payment to the address at the bottom of this page.

PRE-REGISTRATION DISCOUNT SECTION (before May 21st, whole festival is 7 days)

Pre-Register by May 21, 2008 and receive the following discount, please enclose:

Number of Adults __ x $12.00 x __number of days = $_______

Number of CHILDREN __ x $9.00 x ___number of days = $_______

Number of children (5 and under) to attend: FREE______

Total amount=$ ______________

REGISTRATION SECTION ( after May 21st, whole festival is 7 days)

If you register after May 21, 2008, please enclose:

Number of Adults __ x $15.00 x __number of days = $_______

Number of CHILDREN __ x $12.00 x ___number of days = $_______

Number of children (5 and under) to attend: FREE______

Total amount=$ ______________

Name and Address

Name:_____________________________________

Address:____________________________________

City:_______________________________________

Phone: (____)___-_______

Country: ______________

Camping : [ ] Please check

  the box if you would like to camp on-site (please bring your own tent)

Payment Information and Mailing Address

Mt. Kailash Foundation
* Please fill out appropriate sections in form above and send to:
Mt. Kailash Foundation
c/o Nanda Gopal Dasa
P.O. Box 99
Badger, California 93603
USA