Email: This email address is being protected from spambots. You need JavaScript enabled to view it.
Website: musicofyoga.com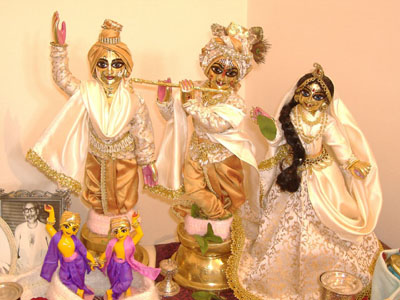 2012-2013 Schedule
UK Tour 2012
Watford – Thursday 27 September and Friday 28th September
Please contact Jagatam didi: This email address is being protected from spambots. You need JavaScript enabled to view it. 07861667561
London – Saturday 29th September – Moday 1st OctberSunday 30th At the New Gangamata Gaudiya Matha
631 Forest Road walthamstow E17 4NE
Contact Kamala: 07740974270
Monday 1st October will be at Syamali's home Please contact Kamala for details.
Brighton – Tue 02 Oct Please contact Prana Govinda: pranagovinda@gmail.com07598276594
Birmingham 4 Oct – Kishori Mohan & Sudevi, Moseley math, 7 pm
5 Oct – Kishori Mohan and Sudevi, Siva's house, Wolverhampton 6:30pm (please contact us for details of how to get there)
6 Oct (Sat) – Kishori Mohan & Sudevi, St Columba's, 6pm
7 Oct (Sun) – Kishori Mohan & Sudevi, St Columba, 6 pm(Other daytime house programs with Sudevi and Kishori to be arranged)
Please contact Birmingham Mosely Temple: 0121 4393708/ 07888091884 Facebook: Narayana Goswami Matha
Malvern – Thursday 11 October Please contact Kamala: 07896310779
Wales – Saturday 13 October – Wednesday 17 October
Saturday 13th October – Hall Programme in Aberystwyth
Merched y WawrVulcan StreetAberystwyth
Sunday 14th October – at the home of Malini and Madan
15-17th October will be at Local devotees homes.
For more detail on the programmes please contact Lalit Kishori:lalitkishoridasi@gmail.com07969905835
Glastonbury – Saturday 20 October – Sunday 21 October
Please contact Shekin Ahsram for more details:
www.shekinashram.orgNational 01458 832 300International 00 44 (0) 1458 832 This email address is being protected from spambots. You need JavaScript enabled to view it.
India
Kartik in Vrindavan Oct 29-Nov 29
South Pacific Dec 10- Mar 17
(Waiting for finalized schedule)
Brisbane
Murwillumbah
Auckland
Fiji
Sydney
Perth
Malaysia
Navadvip Mar 22-27

Biography
Sudevi didi and Kishorimohan Prabhu were very fortunate to be born into families of devotees. When they were very young, they received darshan and cookies from Srila Prabhupada. They attended Gurukul for many years. In 1996, by Krsna's mercy, they were brought to the lotus feet of their spiritual master, Srila Bhaktivedanta Narayana Gosvami Maharaja. On his order , since the year 2000, they have been travelling around the world doing kirtan and preaching his mission.