---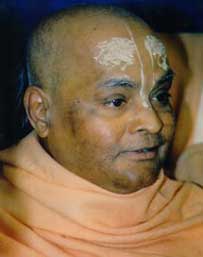 Mayapura: February 11, 2004
Tusti Mohan Krsna das
---
February 11, 2004 marked not only the Vyasa puja of Srila Bhaktisiddhanta Sarasvati Gosvami Thakur, but also the disappearance day of Srila Gour Govinda Swami, a disciple of His Divine Grace Srila Bhaktivedanta Swami Prabhupada. To commemorate the occasion, devotees built a Puspa Samadhi in Mayapura near Srila Prabhupada's Puspa Samadhi and beside the Samadhi of H.H. Tamal Krsna Gosvami.
All the GBC Members and many, many other devotees were present.
The program started at 5:30 am with a kirtana procession to Srila Bhaktisiddhanta Sarasvati Thakura's Samadhi, to Sri Yogapitha and then to ISKCON Mayapura.
At 8:45 am was the installation of the Samadhi, performed by disciples and godbrothers, followed by Vaishnava homa and more kirtanas.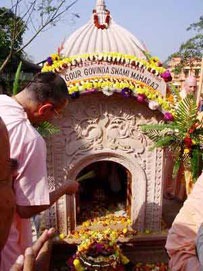 At 2:00 pm there was a feast prasadam for all the devotees in the big kitchen and at 5:00 pm a video lecture by Gaur Govinda Swami at the Pandal recently built by the Samadhi, followed by a special Orissan style kirtana led by Damodara Giri das. Devotees also sang Srila Bhaktivinoda Thakura's song Ye anilo prema dhana. After devotee homages, the program concluded with distribution of Sri Jagannath Mahaprasada from Puri.
[Links:
"The Disappearance Day Of Srila Gour Govinda Maharaja", a lecture by Tridandisvami Sri Srimad Bhaktivedanta Narayana Maharaja, Germany: February 21, 2003

"Srila Gaura Govinda Maharaja Appearance Day"

Biography of Srila Gour Govinda Maharaja, http://www.gopaljiu.org/Gurudeva/Gurudeva.htm (historical link)

To read more about the life history and teaching of Srila Gour Govinda Maharaja, visit the Bhaktivedanta Memorial Library site at http://www.bvml.org/SGGM/index.htm