Friday, 18 March 2005
Arriving in Navadvipa dham and Adhivas Festival of Sri Navadvipa Dham Parikrama (Beginning of annual seven day festival). Taking vow at Ganga.
Saturday, 19 March 2005
(1) Sri Godrumadvipa (kirtanakhya)—after touching Ganges and offering obeisances for Sri Gaura-Yogapitha Sridhama Mayapura, there will be a procession to Savarupaganja, Gadigacha, Surabhikunja, Svananda-sukhada-kunja, Suvarna-vihar, Harihar Ksetra, Narasimha Palli. Prasadam and rest.
(2) On the way back: Sri Madhyadvipa (smaranakhya), Majida, Hatdanga, Anandavasa, Vamanpura and Hansvahana.
Sunday, 20 March 2005
(3) Sri Rudradvipa (sakhyakhya)—Rudrapada; Sankapura; Idrakapura and Gangeradariga.
(4) Sri Simantadvipa (sravanakhya)—Simuliya; Saradanga; Meghara Cada; Belapukura, Samadhi Darsan of Srila Jagannatha dasa Babaji Maharaja in Navadvipa City; Paudamatala (praudha-mayasthana).
Monday, 21 March 2005
Fasting for Sri Ekadasi
(5) Sri Koladvipa (padasevanakhya)—Gadakhalir Kola; Tegharira Kola; Koleramada; Kolera Ganga; Kolera Daha; Samudra Gadha; Campahati.
(6) Sri Ritudvipa (arcanakhya)—Ratu Pura
Tuesday, 22 March 2005
Break fast for Ekadasi after sunrise within 2 hours.
(7) Sri Jahnudvipa (vandanakhya)—Jannagara (Jahnumimisthan); Vidyanagara (Sarvabhauma Bhattacarya pata).
(8) Sri Modrumadvipa (dasyakhya)—Mamagachi (Sri Vrindavana das Thakurera pata). Noon prasadam and rest. On the way back—Arkatila and Ekdala; Matapura (pancapandvera ajnatvasa).
Wednesday, 23 March 2005
(9) Sri Antardvipa (atmanivedanakhya)—Sri Gaura Janmabhita in Sridhama Mayapura; Srivasa Angan; Sri Advaita Bhavan, Sri Caitanya Math (Sri Candrasekhar Bhavan); Samadhi Mardha of Jagadguru Srila Prabhupada, Sridhara Angan and Sri Murari Gupta pata; Chand Kazi Samadhi. Noon prasadam at Sri Yogapitha.
Thursday, 24 March 2005
Nagar Sankirtana in Navadvipa
Friday, 25 March 2005
Fasting for SRI GAURA PURNIMA, Sri Gaurajayanti and sankirtan festival. Fasting till moonrise, Ekadasi preparations only. Holi.
Saturday, 26 March 2005
Break fast for Sri Sri Gaura Jayanti after sunrise till 9:00 am. Prasadam distribution. Festival of Sri Jagannatha Misra.
---
Sections: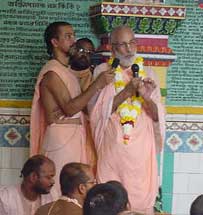 Srila Bhaktivedanta Narayana Maharaja in speaking at Yoga Pith, Mayapura, the sacred Appearance place of Sri Caitanya Mahaprabhu.
Invitation for Sri Gauradhama Parikrama
March 18- 26, 2005

Address (of our new Math):
Sri Sri Kesavaji Gaudiya Math, M Kolerdanga Road Navadvipa. (Near Ganga bridge)
Phone: +91-93332.22775
---
Dear Devotees,

This year Sri Srimad Bhaktivedanta Narayana Gosvami Maharaja is personally inviting and arranging for all the devotees to come and observe Sri Navadvipa Mandala Parikram in the holy land of Sri Mayapur Dhama.

For seven days, from 19 March to 25 March 2005, we will go by foot and visit the nine islands of Sri Navadvipa Mandala, There will be darshan of many places, kirtanas and delicious maha-prasadam. The festival will be held on our new land (see address above). Following the footsteps of our Guru-parampara in the mood of 'Simple living and high thinking', a traditional Bengali-style tent camp will be set up made of bamboo, canvas and straw mats, including outdoor toilets and showers. This will give us a unique opportunity to experience how Navadvipa Parikrama was performed in the earlier days and in this way we will surely receive the special mercy of Sri Caitanya Mahaprabhu. You are most welcome to bring your own tent and mosquito net. If you prefer more facilities there are possibilities to rent a hotel room or a room in local houses.

We cordially invite everyone to come and join this wonderful festival. A minimum contribution of Rs.1500 or US $30 is required in order to cover the basic expenses during the festival.

On behalf of the management we kindly inform you that from the 18th February onwards the facilities on our grounds will be available.
For information on planning your trip and travel health, see our expanded and revised guide.

For more information please contact Brajanath dasa at