March 12-19, 2011
Our most worshipful Srila Gurudeva, nitya-lila pravista om visnupada Sri Srimad Bhaktivedanta Narayana Gosvami Maharaja, spent the last fifteen years traveling the world and inspiring devotees in their bhakti – and everywhere he went, he invited his audiences to come for the Kartika parikrama in Vrndavana and the Gaura-mandala parikrama in Navadvipa. For example, in the Philippines, in 2009, he said, "Navadvipa-dhama parikrama is coming very soon – after one month. I am inviting you all. If you have no money problem and you can come, and I will be very happy." On the last day of this past Kartika, 2010, inviting all the devotees to Navadvipa, he announced, "I will be there."
And, he was. Everyone in attendence could feel his divine presence guiding and leading the parikrama, just as he had done for years and years. The annual Navadvipa-dhama parikrama was thus sucessfully held at Sri Kesavaji Gaudiya Matha on the island of Koladvipa, from March 12-19.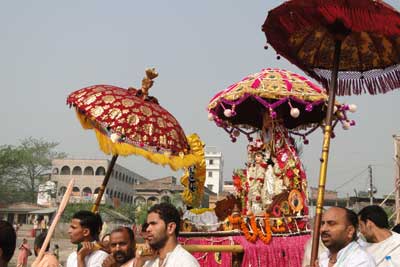 At the head of the entire parikrama party was the Supreme Personality of Godhead, Sri Caitanya Mahaprabhu, carried on a beautifully decorated palanquin by His servitors.
Just as Srila Gurudeva had inspired his sannyasis to lead the parikrama in past years, by his inspiration Sripad Bhaktivedanta Tirtha Maharaja and Sripad Bhaktivedanta Madhava Maharaja and other sannyasis daily led the 15,000 pilgrims to the holy pastime places and discussed the significance and pastimes of those places.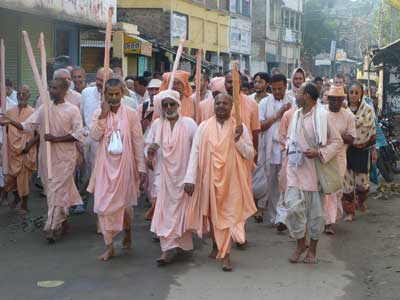 On the first day of parikrama the party went to Sri Devananda Gaudiya Matha, where they had darsana of the samadhi mandira of Srila Paramgurudeva Bhakti Prajnana Kesava Gosvami Maharaja, as well as that of Srila Bhaktivedanta Vamana Gosvami. Sripad Madhava Maharaja spoke about Srila Gurudeva there – how Srila Gurudeva was transcendentally born and raised by his Guru Maharaja in this temple, and how Srila Gurudeva had personally been the main spiritual nourisher of all the leaders who presently preside there.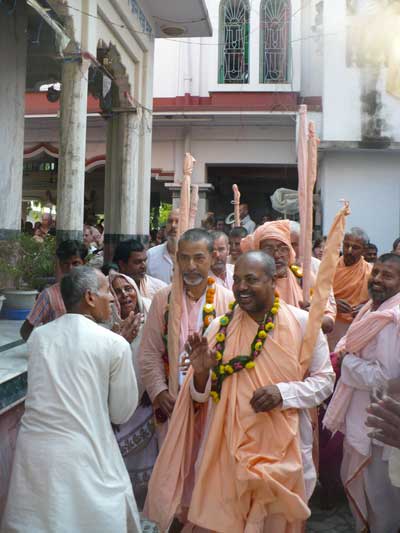 From Devananda Gaudiya Matha, the parikrama went to take their parikrama vows (sankalpa) at the Ganga.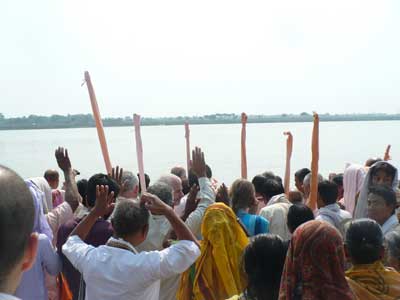 There they chanted the glories of Ganga-devi, vowed to complete the rules and regulations in their daily parikrama, and prayed for the attainment of the spiritual goals aspired by them as a result of giving their heart to the parikrama.
The devotees spent at least an hour at each pastime place, where they sang heartfelt kirtanas and bhajanas, and where the sannyasis and other senior devotees spoke in English, Hindi, and Bengali to accomadate the devotees various languages. In addition to the English-speaking devotees hearing on their transistor headsets the translations of the Bengali and Hindi speakers, the devotees from other countries, such as China, Russia, and Brazil, heard on their headsets translations into their own languages as the English speaking translator narrated.
All the speakers based their speeches on Srila Gurudeva's Navadvipa-dhama Parikrama book as well as his translation of Srila Bhaktivinoda Thakura's Navadvipa-dhama Mahatmya. To save time, therefore, so that you can get this report sooner than later, instead of transcribing the speeches we are quoting an excerpt about Nirdaya-ghata directly from the Navadvipa-dhama Parikrama book:
"On a wintry night Sri Caitanya Mahaprabhu jumped into the turbulent waters of the Ganga at this ghata, crossed the river and went to Kantaka-nagari (Katwa), where He accepted the renounced order from Sri Kesava Bharati. Then, via Santipura, He went to Sri Jagannatha Puri. Being very cruel-hearted (nirdaya) He left His widowed mother and His wife, and crossed the Ganga at this ghata. From that time on this ghata became known as Nirdaya-ghata."
Regarding the devotees visiting the Sri Caitanya Matha and the Samadhi Mandira of Srila Prabhupada's Samadhi Mandira, from Sri Navadvipa-dhama Parikrama: "Srila Prabhupada Bhaktisiddhanta Sarasvati Thakura manifested Sri Radha-kunda and Sri Syamakunda next to Candrasekhara-bhavana on the banks of the ancient Sri Prthu-kunda, or Ballala-dighi. There, in a mood of deep separation, he used to perform bhajana of Sri Radha-Krsna and Sri Gaurasundara. The mere sight of these two ponds causes memories of Radha-kunda and Syama-kunda in Vraja to arise in the heart."
Sripad Sridhara Maharaja led a beautiful kirtana which made all the devotees dance in joy, after which the various speakers relayed the hari-katha about Lord Rama that was so dear to Srila Gurudeva. The pastime is written in Sri Navadvipa-dhama Parikrama as follows:
"Srila Bhaktivinoda Thakur relates the following pastime in his Sri Navadvipa-dhama-mahatmya: Once, as Lord Ramacandra was observing the extraordinary beauty of this forest, He began to smile. Sita asked Him why He was smiling, and Sri Rama replied, 'In this forthcoming Kali-yuga, I will take birth from the womb of Mother Saci in Sri Jagannatha Misra's house in this same Navadvipa-dhama. People will know Me as Gauranga, and I will charm everyone by performing a variety of enchanting pastimes. I will manifest the glory of the holy name and thus madden the common people with the chanting of these names. I will change the hearts of even the sinners and give them love of God, which even the demigods rarely attain. In My youth I will accept sannyasa, after which I will reside in Sri Jagannatha Puri. At that time My mother Saci-devi, who is none other than Kausalya, will weep, holding her daughter-in-law Visnupriya in her arms. You will be that Visnupriya. I will thereafter remain in Puri, and will also weep for you day and night.'
"Sitaji inquired, 'Why will You perform such pastimes?'
"Sri Rama answered, 'I will appear in this world as Gauranga, just to teach the living entities prema-bhakti. Prema-bhakti is tasted in two ways: meeting (sambhoga) and separation (vipralambha). In sambhoga-rasa the pleasure one receives in meeting is prominent. In vipralambha-rasa, in the distress of separation, one attains the happiness of constant internal meeting in which everything external is forgotten. Only in separation do one-pointed rasika devotees attain the unlimited bliss of service. Without vipralambha, sambhoga-rasa is not nourished and instead tastes like vipralambha. Therefore in vipralambha, rasa is a million times more relishable than in sambhoga.
"'When I appear as Gauranga, Mother Kausalya, together with Aditi-devi, will appear as Saci-devé, and you will be My wife, Visnupriya. Later, in this incarnation as Rama, I will find an excuse to abandon you, and send you to the hermitage of Valmiki. Then, in separation from you, I will make a golden Sita and worship you. In the same way, in My incarnation as Gaura, you will manifest a Deity of Me as Gauranga after I renounce My home, and you will worship Me in Navadvipa. Through the pastimes of Gauranga, I will teach the world the excellence of vipralambha-rasa.
"'Sri Navadvipa-dhama is dear to Me, even more so than Ayodhya. This banyan tree will become famous as Rama-vata, but it will disappear at the beginning of Kali-yuga.'
"After staying here for some time, Sri Ramacandra, together with Sita and Laksmana, departed for Dansakaranya the desire of Sri Ramacandra, His dear friend Guhaka, the King of Nisada, took birth here in the house of a brahmana as Sadananda Bhattacarya. Sadananda Bhattacarya had one-pointed firm faith in Ramacandra and was present in Sri Jagannatha Misra's house at the time of Sriman Mahaprabhu's appearance. When he took darsana of baby Nimai he saw Him as Sri Ramacandra. He later had darsana of Sri Rama, Sita and Laksmana, with Hanuman folding his hands at their feet.
"Sadananda Bhattacarya often used to come to the house of Jagannatha Misra to take darsana of the child Nimai. When, after some time, Mahaprabhu inaugurated His harinama-sankirtana, Sadananda performed kirtana in Mahaprabhu's group and was overwhelmed with transcendental bliss.
On the evening of Gaura Purnima, at Sri Kesavaji Gaudiya Matha, Krsna-dasa adhikari and Tamal-Krsna dasa brahmacari led the now 17,000 devotees in singing from Sri Caitanya-caritamrta, Adi-lila Chapter 13, verses 98-124, about Sri Caitanya Mahaprabhu's birth. After that, the abhiseka (bathing ceremony) of Sri Caitanya Mahaprabhu began, at which time the Deities were bathed with honey, ghee, water, coconut water, sugar, milk and yogurt. Then, after the abhiseka, arati and kirtana were performed.
Srila Gurudeva's GVP Book Sponsorship program had just sponsored the printing of 5,000 Bengali Secrets of the Undiscovered Self, destined for free distribution by the Bengal village preaching parties, and distribution of that booklet also began at the festival.
After the parikrama and Gaura-Purnima Festival was brilliantly completed, there were a few days of meetings of Srila Gurudeva's International Pure Bhakti Yoga Society's Bhakti Trust International, followed by meetings of his Sannyasa Council comprised of all his Indian and Western sannyasis, followed by general meetings with all interested devotees. Those meetings were extremely successful, enlivening everyone with a great hope for the unity, harmony, and strength of Srila Gurudeva's international preaching mission.
During a few of the spiritually enthusing evening classes, at which time further glorification of Mahaprabhu's pastime places were narrated, Srila Gurudeva's new publications were announced to the international devotee community. These publications include his Hindi Tenth Canto Srimad-Bhagavatam, Chapters 1-8; the gorgeous Vyasa-puja edition of his Harmonist Magazine; a booklet of his unique lecture, entitled The Speciality of the Gift of Sri Caitanya Mahaprabhu; a compilation of excerpts of his lectures (given for the ever-increasing unification of his sanga) called Harmony; an interactive CD of the many beautiful artworks created under his scrupulous direction; and his small and large 2011 Vaisnava calendars. The devotees were pleased to receive these publications, and to pack thousands of them into their luggage in order to bring them back to their cities and countries.
--