INTERNATIONAL CULTURAL AND EDUCATIONAL FESTIVAL "YOGA OF LIFE"
Sri Srimad Bhaktivedanta Narayana Goswami Maharaja
02 - 08 SEPTEMBER 2013
Mountian Altai (Russia)
Dear devotees and friends,
Om visnupada Sri Srimad Bhaktivedanta Narayana Gosvami Maharaja personally invited all of us to attend annual International Cultural Educational Festival "Yoga of Life" in the mystical land of the Altai Mountains in Russia.
Srila Gurudeva's heart's desire and great pleasure is that during this Festival devotees from all over the world come together as a loving family and become immersed in sweet hari-katha, remembering the pastimes of Sri Sri Radha-Krsna and Sri Gaura-Nityananda Prabhu.
This year it will be the third international cultural and educational festival "Yoga of Life" to be conducted without the physical presence of Srila Gurudeva. We will share many remembrances of his glories and of the hari-katha that continuously emanates from his lotus mouth. Please, take this opportunity to be with us.
---
---
Festival guests
At the instance of many Srila Gurudeva's disciples and followers, Sripad Bhaktivedanta Madhava Maharaja kindly accepted the proposal to preside over the Festival. Our distinguished guests include:
Sripad BV Van Maharaj
Sripad Padmanabha Maharaja BV
Sripad Nemi Maharaja BV
Sripad BV Shuddhadvayti Maharaj
Sripad BV Sadhu Maharaj
Sripad BV Damodara Maharaj
Sriman Brajanatha Prabhu
Srimati Vrinda Didi
---
The organizers of the festival
Krishna das – the general manager
Damayanti devi dasi – the manager of social and cultural activities
Amita Krishna das – the information-advertising support
Jaya Sri devi dasi and Dayanidhi das, Krishna Murari das, Amal Krishna das – the responsible for advertising
Kaviraj Krishna das – the responsible for meals
Kamala devi dasi – the responsible for the cultural program
Venu Gopal das and Indumukhi devi dasi – the responsible for the transport
... and others.
---
Venue
As last year, the Festival will take place in Gorny Altai, not far from Gorno-Altaisk, in the tourist center 'Stick Travel' (http://www.stik-travel.ru), which is situated in a picturesque place near Lake Aya, in the birch forest, on the bank of the channel of the river Katun.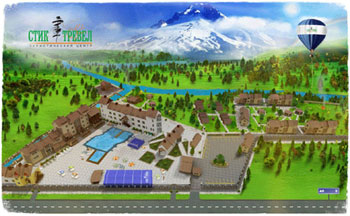 ---
Accommodation
The system of placement and accommodation in tourist spa-zone "Stick Travel" is thoroughly thought over and takes into consideration needs and possibilities of every person. In the area of spa-zone there are:
3 hotels

4 guest houses made out of cedar for 8 rooms each

5 comfortable bungalows

Well-furnished cottages for 6 rooms each

12 summer houses for 3 or 4 persons
---
Nourishment
Vegetarian meals will be organized on the Festival tree-times a day in accordance with vaishnava rules and standards. For those devotees that follow Chaturmasya rules there will be an opportunity to follow.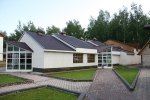 The Meals
At the festival 3-times a day vegetarian meals will be organized, according to the regulations and standards of vaisnava kitchen. For the devotees following Chaturmasya there will be all conditions.
For breakfast you can take fruit salads, curds, delicious porridges and sandwiches, fruits and drinks.
For lunch you honor traditional Indian sabji, rice, sauces, and also soups, garnishes and salads, which are more habitual for Russians.
For dinner there are macaroni, buckwheat and puree, fresh vegetables and salads, sauces and other tasty things.
Raw food eaters will be given all facility for organizing the meals.
---
The festival program (Programme is subject to change)
Important! One can arrive to festival starting 2nd of September (12pm, noon) and should leave not later then 8th of September (till 8pm). If you arrive earlier or leave later those dates and time, please confirm it with us and it's up to you to arrange your accomodations and meals.
Overall schedule
5 am – Mangal Arati
6 am – Bhajans
7-8 am – Morning lecture
9am – Breakfast
9:30-11 am – Meetings, Darshans
11-12.30 am – Seminars
1 pm – Lunch
3-4.30 pm – lectures, meetings, seminars
5 pm – Bhajans
6 pm – Evening lecture
7.30 – Gaura Arati
8.30 – Dinner
---
Theme of the Festival - Unifying and Developing Srila Gurudeva's sanga.
Topics Hari Katha (lectures)Harmony and cooperation
Practicing bhakti-yoga in sadhu-sanga.
Steady progress in bhakti-yoga.
Pastimes and qualities of Vaishnavas.
Pastimes and glories of Lord Caitanya.
Vraja pastimes.
Seminar topics for all (the program Bhakti Samaj Pujyapada BV Nemi Maharaja):
Family life in Krishna Consciousness (successful in Grahasta ashram senior Vaishnavas).

A recess in the practice of bhakti-yoga.

Different types of preaching.

Distribution of books.

Harmony in relationships and communication devotees.

Building and strengthening communities (sang) devotees.
Workshops for beginners and new devotees:
Quick Start Program (what is it all about).

The practice of Bhakti yoga at home.

A day in the life of a devotee.

Ekadasi and Festivals.

Steps purity.

Kirtan.

Scriptures.

Vegetarian cooking.
Classes and seminars for all:
Family life in Krishna consciousness (definitely local grihasta devotees should play the predominant roles here)

Going deeper in the practice of bhakti-yoga

Different types of preaching

Book distribution

Harmony and communication in devotee's relationships

Building stronger devotee communities
Cultural Program
Concert
Exhibition
Performance
Children club "second generation" -program for children and teenagers during the entire festival – Kamala dd
Training classes

Playing musical instruments (mrdangas, karatalas, etc.) - instructors need.


Pronunciation of Sanskrit verses and prayers - Amita Krishna Das.
Special Events
Initiations (Harinam and Diksha)
Upanayana-samskara (presentation of sacred thread during fire-ceremony yagya)
Vivaha –samskara (wedding ceremony),
Anna-prashna-samskara (first grain feeding of a baby) and other rituals according to the needs of devotees (please, let us know about your wish beforehand)
---
Conditions of participation in the Festival

Anyone who is interested in spiritual development, friendly to vaishnavas and agrees with other rules of the festival can participate.
We kindly ask you to follow those rules on the festival:
After arriving to festival one should register with the help of the festival registration service, and fill out application form of festival participant,
To follow general schedule of the festival and not to stop other participants from following it,
To respect people around you and not to disturb them,
To respect and follow requests and advices of festival organizers.
All participants of the festival should have valid passports and identification documents.
Parents take full responsibility for actions and any possible damage done by their children.
Administration and Organizers do not take this responsibility.
In case of destruction or damage of a property, which include green plants and vegitation, participant of the festival pay market price of the property damage plus a fine.
---
Reservations, festival fee and registration
Step 1 - Choice of accommodation categories.
Take a look at accommodation option of "Stick travel" via their website(www.stik-travel.ru) and choose the category of accommodation on the festival. Agents of the festival can help you with this (see below the information about them).
Below you can see general information about room category and discounts that comes with advance payment.
. Therefore, for the third year in a row we keep the festival fee on the same level!We try to make the most affordable prices with high standard and good quality accommodation. Therefore, for the third year in a row we keep the festival fee on the same level!
Festival fee:
Category

Festival Fee

Luxury

12 000 RUR

400 USD

300 Euro

Semi-Luxury

11 000 RUR
366 USD
275 Euro

Standard

9 000 RUR
300 USD
225 Euro

Economy

7 800 RUR *
260 USD
195 Euro
* Price of festival fee (in rubles, per person), including accommodation, food, lectures and seminars, concerts and other events.
Participation for kids 5 year old or less is free and does not include additional accommodation. Festival fee for kids 5-14 year old is 5 000 rubles. From 14 years children are considered to be adults and festival fee depends on accommodation category.
Description of categories:
Luxury Suite– it is a spacious double room (bedroom and hall) and washroom (WC, sink, shower); this suite is for 2 persons plus 1 additional person (sofa).

Semi-luxury Suite– this is a spacious one bedroom number with washroom (WC, sink, shower); this suite is for 2 persons plus 1 additional person (sofa).

Standard

– it's a one-bedroom room in 2-story cedar summer building; two queen-size bed, bedside chest, hangers, outlets. Washroom (exept for cottage): WC, sink, shower (hot water). Accomodates two.

Economy – this is a basic one-bedroom apartment with toilet and shower on the floor and not in the room. If you have economy class room in a house, toilet and shower are outside.

Step 2 - Booking
For your convenience we have arranged online booking and registration. This is a new service that we did not have in a past. Now you can book specific room in a specific building of tourist center "Stick-travel". To do this you need to contact with special agent Damayanti dasi. She will be happy to help you with booking.
Please contact to Damayanti dasi – skype: lifeyogafestival, This email address is being protected from spambots. You need JavaScript enabled to view it., RUS +7-967-854-2263.
Important! You can book a place only by booking the entire room.
Step 3 - Paying festival fee and Registration
After you have booked a room in tourist center, you can prepare for a festival. Upon arriving in tourist center "Stick-travel" you will be welcomed by Krishna das and Damayanti dasi. You will need only to pay your festival fee and get keys from your room.


---
How to get to the festival site

Transfer: The festival will take place in tourist center "Stick-travel", which is approximately 30 km away from Gorno-Altaysk.
The most convenient way to get to the festival site is to book a transfer with Damayanti dasi. Last year we organized transfer from Novosibirsk city by big and comfortable buses straight to the tourist center. It will be more comfortable if you arrive to Novosibirsk and take the transfer. How to do this will be described in Festival fee and registration section (follow information on the website http://purebhakti.com
Self:
Ways of travel to the tourist complex "Stick-Travel."
Option #1
Plane to Novosibirsk.
Then from Novosibirsk airport (Tolmachevo) - bus No 112, 122 - to bus terminal

Take bus to Aya, which calls Novosibirsk-Chemal. Departure at 22:30. Price 840 RUR

Take bus to Gorno-altaysk ( departure time 10:30 am, 18.30 pm, 11.30 pm) and then take taxi to the place.
Option #2
Train to Novosibirsk. Same options for the bus with devotees.
Option#3
Plane to Barnaul.
Take bus to bus terminal

From bus terminal take bus to Aya.

Take taxi from Aya to the place
WE HOPE TO SEE YOU ALL AT THE FESTIVAL
"After the departure of Sri Guru we plunge into the darkness of ignorance, and the way of our sadhana constantly having the test. Therefore, for us, the festival of separation from the Guru is like a beacon, do not let go astray."
Tridandisvami Sri Srimad Bhaktivedanta Narayana Maharaja,
"Sri Gaudiya Patrika", Issue 10.
SRILA GURUDEVA KI JAY!!!
www.purebhakti.ru
http://vk.com/yogalife2013
This email address is being protected from spambots. You need JavaScript enabled to view it.