Śrī Vraja-mandala Parikrama
2018
All Glories to Śrī Śrī Guru & Gauranga!
The Glories of Śrī Vrindavana-dhāma
vṛndāvanaṁ sakhi bhuvo vitanoti kīrtiṁ
yad devakī-suta-padāmbuja-labdha-lakṣmi
govinda-veṇum anu matta-mayūra-nṛtyaṁ
prekṣyādri-sanv-avaratānya-samasta-sattvam
Śrīmad-Bhāgavatam (10.21.10)
"O sakhī, the fame of the Earth is enhanced, having been splendidly decorated with the marks of Śrī Kṛṣṇa's lotus feet. Upon hearing Kṛṣṇa's flute song, the peacocks take it to be the thunder of the clouds and, becoming intoxicated, begin to dance. When the other animals in the meadows of Govardhana see this, they also feel pleasure and become stunned. Thus, the presence of Śrī Vṛndāvana on the Earth makes this planet even more glorious than Vaikuṇṭha."

"Please always remember what Śrī Caitanya Mahāprabhu taught about the nature of Śrī Vṛndavana, the nature of Śrī Śrī Rādhā-Kṛṣṇa, and the nature of we individual spirit souls.

"Simply bow down to offer respects to the cottages in the groves of Vrindavana and you will find the wonderful treasure contained in the nectar oceans of pure love for Lord Kṛṣṇa.

"The blissful impersonal Brahman does not possess even the three most basic forms of variety. In Vrindavana however, the wonder of great variety has reached the topmost superlative of existence.

"O drop of spiritual potency, O spirit soul, please meditate on the beautiful, blissful, wonderful, sweet ocean of spiritual potency where the elephant of Śrī Kṛṣṇa splashes as He enjoys His pastimes.

"Please worship the fair and dark complexioned divine couple who are now plunged in the shoreless nectar of ever new and fresh transcendental amorous pastimes in Vrindavana forest."

Śrī Vrindavan mahimamrita (Sataka 2, verses 95–99)

"Gradually, one by one, give up all activities that obstruct love for Śrī Śrī Rādhā-Kṛṣṇa from growing in your heart. Always and everywhere meditate in your heart on the truth of Śrī Śrī Rādhā-Kṛṣṇa. With eyes of love always see all moving and stationary living entities as parts and parcels of Śrī Śrī Rādhā-Kṛṣṇa. Any other way of seeing should disappear into non-existence. Day and night celebrate a great festival of devotional service for Śrī Śrī Rādhā-Kṛṣṇa, who enjoy transcendental pastimes in the forest of Vrindavana.

"In Vrindavana flows the most splendid nectar that completely eclipses all the glory present in the entire material and spiritual world. Vrindavana is filled with the fathomless bliss of pure spiritual love, which makes one completely forget all other kinds of happiness. Give up everything and just reside in Vrindavana, where Śrī Śrī Rādhā-Kṛṣṇa enjoy endless transcendental pastimes."

Śrī Vṛndāvana-mahimāmṛta (Sataka 3, verses 1 and 5)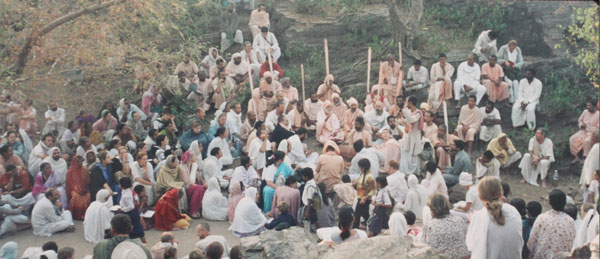 INVITATION
Dear Devotees,
We like to cordially invite you for Śrī Vraja-mandala parikrama 2018.
Since 1954, our beloved guide and well-wisher nitya-līlā oṁ viṣṇupāda Śrī Śrīmad Bhaktivedānta Nārāyaṇa Gosvāmī Mahārāja performed and conducted this parikrama with great enthusiasm.
He has emphasized the importance of participating in this month long festival, as it affords us an opportunity• to visit and hear about all of Śrī Kṛṣṇa's pastime places in Vraja, • to regularly hear the philosophical conclusions of Gauḍīya Vaiṣṇavism, • to perform kīrtana morning, noon and night, and • to be in the company of devotees from around the world.
In service to his wish that devotees come to the dhāma for Kārtika, we would like to welcome you to join the parikramā and become immersed in the beautiful Vraja pastimes.
Parikrama
This year's parikrama will be inaugurated on October 24th, with the devotees observing sankalpa, or a vow to ensure the success of our parikrama, on the bank of Yamuna near Gopinatha Bhavan, Vrindavana. After this we will begin our Sri Vraja-mandala parikrama, a pilgrimage to all the incomparably beautiful places in Vraja. Our pilgrimage will be completed on November 23rd.
Parikrama Festivals
On certain days throughout Kartika month, we will observe the divine appearance and disappearance days of our acaryas. These days will be celebrated with kirtana and hari-katha, given in both Hindi and English, and delicious maha-prasadam will be served.
Govardhana puja (worship of Govardhana Hill) and go-puja (worship of our mother cow) will be celebrated on November 8th. In an endeavor to please Sri Giriraja and Srila Gurudeva we will offer Giriraja Govardhana an abundance of delicious preparations for Annakuta Maha Mahotsava. For this festive occasion you are welcome to bring your own ingredients to prepare an offering for Giriraja Govardhana. If you are unsure about what you can offer, we suggest dried fruits, nuts, candies and other such items. Freshly cooked milk sweets may be easily purchased in Govardhana town. Donations are also very much welcome.
Parikrama Locations
From October 23rdtill the morning of November 5th all hari-katha, kirtanas and maha-prasadam will be held in Gopinatha Bhavan, Vrindavana, which is located on the parikrama marga (path) on the bank of Yamuna, next to Imli-tala, Seva Kunja. From November 5th till November 23rd we will stay at Govardhana, at Sri Giridhari Gaudiya Matha, which is near the bus stand on the road to Radha-kunda.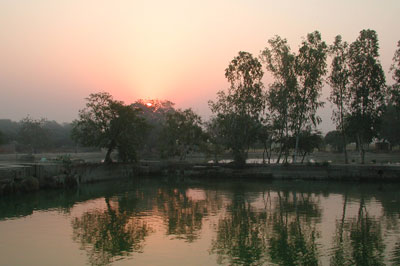 Practicalities
Registration
To register for this festival, upon arrival in Vrindavan or Govardhan, submit a completed Participation Form + a copy of the picture page of your passport, your visa page + a passport photograph and give your contribution (in rupees, dollars, or euros) to Sundar Gopal dasa and Ajit Krsna dasa. In Vrindavan they will be at the registration table in the courtyard of Gopinath Bhavan and later on in Govardhan in front of the temple building at Sri Giridhari Gaudiya Math. Also there they will connect you with the devotees responsible for accommodating you in rooms inside or outside the temple complex.
Cost
A minimum contribution of Indian Rs.12.000 per person is requested in order to cover the most basic expenses of the month long festival. This payment covers prasadam, bus travel, as well as electricity, water, the sound system, a generator, the payment of various workers, cleaning costs and so forth. This contribution is therefore a service, not just a payment, and it is genuinely needed.
Accommodation
Dharmasala
If you like to stay in a dharmasalas (simple lodgings for pilgrims, included in the festival fee), contact Vrinda-devi dasi. These dharmasalas are located near Gopinath Bhavan and Sri Giridhari Gaudiya Math, where there is facility to set up your sleeping mat and mosquito net in a hall or big room. At the Math at Govardhan there is also facility for tents.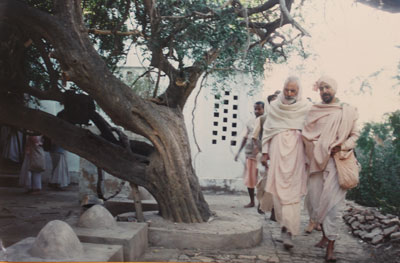 Room rental
Vrindavan: Rooms are available for rent in nearby guesthouses and in the houses of the local residents. The average charge is about 500-800 rupees per room per day, depending on the facility offered. For more details contact Mani-mati dasi, This email address is being protected from spambots. You need JavaScript enabled to view it., WhatsApp: +91-989.799.0125.
Govardhan: Near our Giridhari Gaudiya Math rooms are available at different rates. For booking (before Sept 15th) contact Vrinda-devi dasi, This email address is being protected from spambots. You need JavaScript enabled to view it.; mobile: +91-955.772.7768; WhatsApp: +91-9560911958 or Ajit Krsna das, This email address is being protected from spambots. You need JavaScript enabled to view it., This email address is being protected from spambots. You need JavaScript enabled to view it.
Taxi
To arrange a taxi to pick you up from the airport or to take you to and from other places, you can you can contact Mani-mati dasi at This email address is being protected from spambots. You need JavaScript enabled to view it., WhatsApp: +91-761.749.7080
or refer to our website taxi page.
Devotees are advised not to travel and arrive in Vrindavan during midnight hours; try to reach Vrindavan before 21:30 pm or after 4:30 am.
For more details about traveling to the Dham, how to maintain good health during your visit, and other practicalities, please visit our website page, Traveling to India.
Kitchen Seva
Sriman Pradyumna Babaji Maharaja & Sripad Bhaktivedanta Sridhara Maharaja
Over-all management :
Sri Ramacandra dasa, e-mail: This email address is being protected from spambots. You need JavaScript enabled to view it., Phone: (+91-981.019.2540)
Sri Dhira Krsna dasa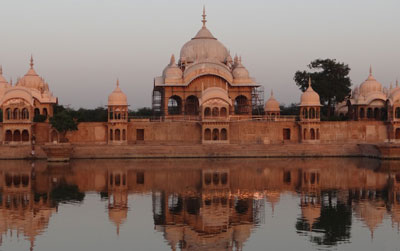 Schedule
Sri Vraja-mandala Parikrama 2018
Under the guidance of Sri Srimad Bhaktivedanta Narayana Gosvami Maharaja
Sri Gopinatha Bhavan, Vrindavana, Tel: +91 96.3456.3739
Sri Rupa Sanatana Gaudiya Matha, Vrindavana, Tel: +91 7457839654
Sri Giridhari Gaudiya Matha, Govardhana, Tel: 0565-2815668
Oct. 22, Mon.
Darsana of Sri Durvasa Rsi Gaudiya Asrama. Hari-katha and prasadam in Vrindavana at Gopinatha Bhavana from 22nd Oct. pm till 5th Nov. am.
Oct. 23, Tue.
Hari-katha and rest.
Oct. 24, Wed.
(Vrindavana) Sri Sarad Purnima. Kartika-vrata begins. Sankalpa (vow) for the parikrama at Kesi-ghata in Vrindavana. Sri Srimad Bhakti Prajnana Kesava Gosvami Maharaja 50th disappearance festival.
Oct. 25, Thu.
Kaliya-daha, Srila Prabhodananda Sarasvati's bhajana-kutira and samadhi, Srila Sanatana Gosvami's bhajana-kutira and samadhi, Sri Madana-mohana Temple, Dana-gali.
Oct. 26, Fri.
BY BUS (from Vrindavana) to Madhuvana, Talavan, Kumudvana.
Oct. 27, Sat.
Seva-kunja, Sri Radha-Damodara Temple, Imlitala, Srngara-vata.
Oct. 28, Sun.
BY BUS (from Vrindavana) to Bhatrol, Akrura-ghata, the place of the Yajna-patnis. Mana-sarovara, Vamsivat, Mathavana, Bhadravana, Bhandiravana.
Oct. 29, Mon.
Nidhuvana, temples of Sri Radha-Ramana, Sri Radha-Gokulananda, Sri Radha-Gopinatha.
Oct. 30, Tue.
BY BUS (from Vrindavana) to Dauji, Brahmanda-ghata, Mahavana-Gokula, Raval.
Oct. 31, Wed.
Dhira-samira, Gopesvara Mahadeva, Vamsi-vata, Brahma Kunda, Sri Govindadeva Temple.
Nov. 1, Thu.
BY BUS (from Vrindavana) to Khelanvana, Rama-ghata, Viharavana, Cira-ghata (prasadam), Vatsavana, Garuda-Govinda. (Bahulastami).
Nov. 2, Fri.
Pujyapada Srila Bhakti Raksaka Sridhara Maharaja's appearance festival. Visiting Sri Jharu-mandal, Sri Radha-Syamasundara.
Nov. 3, Sat.
Baelvana darshan.
Nov. 4, Sun.
Ekadasi. Sri Vrindavana parikrama.
Nov. 5, Mon.
BY BUS Departure from Vrindavana to Govardhana via Bahulavana, Paitha and Candra-sarovara. Hari-katha and prasadam in Govardhana at Sri Giridhari Gaudiya Matha till 23rd Nov.
Nov. 6, Tue.
Govardhana big parikrama: Dana-ghati, Anyora, Govinda kunda, Punchari, Surabhi-kunda (prasadam), Jatipura.
Nov. 7, Wed.
Sri Hari-deva Temple, Brahma-kunda, Cakalesvara Mahadeva, Mukharavinda, Sri Sanatana Gosvami's bhajana-kutira, etc.
Dipavali - festival of lights in the evening.
Nov. 8, Thu.
Govardhana Puja, annakuta festival, worship of Govardhan Hill. Go Puja and Go Krda - worship and decorating cows.
Nov. 9, Fri.
Bhaijaduja (Yamaraja's blessings on brothers and sisters). Radha-kunda parikrama: Uddhava-kunda, Kusuma-sarovara etc. Prasadam at Sri Giridhari Gaudiya Matha.
Nov. 10, Sat.
Srila Bhaktivedanta Vamana Maharaja's and Srila Bhaktivedanta Trivikrama Maharaja's disappearance festival. Hari-katha and rest.
Nov. 11, Sun.
Srila Bhaktivedanta Svami Maharaja's disappearance festival. Hari-katha and rest.
Nov. 12, Mon.
Srila Bhakti Srirupa Siddhanti Gosvami Maharaja's appearance festival. Hari-katha and rest.
Nov. 13, Tue.
BY BUS to Dig, Bhojana-thali (breakfast prasadam), Pichala-pahadi (slide-hill), Vyomasura's cave, Carana-pahadi, Vrinda-devi and Kamesvara Mahadeva, Vimala-kunda (lunch prasadam), Adi-badrinath.
Nov. 14, Wed.
Hari-katha and rest at Giridhari Gaudiya Matha, Govardhana.
Nov. 15, Thu.
Killola-kunda, Gvala-pokhara (prasadam), Syama-talaiya, Ratna-vedi, Carana-cihna, Narada-kunda.
Nov. 16, Fri.
BY BUS to Nandagrama via Ter-kadamba, Asisesvar Mahadeva, Choti Carana-pahadi, Pavana-sarovara, Nanda-bhavana, Lalita-kunda, Uddhava-kyari (prasadam), Nandakhirak (Nanda-baba's goshala), Sanket, Prema-sarovara, (Gopastami).
Nov. 17, Sat.
Hari-katha and rest at Giridhari Gaudiya Matha, Govardhana.
Nov. 18, Sun.
BY BUS to Varsana. Sankiri Khora, Cikasauli, Gahvaravana parikrama, Vilasa-gharha, Mana-garha, Dana-garha, Mor-kuti (breakfast prasadam), Sriji Temple, Varsana. Pili-pokhara, Uchagaon (prasadam), Sakhigiri-parvata, Suryakunda.
Nov. 19, Mon.
Ekadasi. Srila Gaura-kisora dasa Babaji Maharaja's disappearance. Bhisma-pancaka. Hari-katha and rest. Diksha ceremony.
Nov. 20, Tue.
BY BUS to Vrindavana. Yearly festival at Ananda-dhama with prasadam and nagara-sankirtana in the evening.
Nov. 21, Wed.
BY BUS to Khadiravana, Javata, Baithana, Carana-pahadi, Kokilavana, (prasadam), Santanu kund, Satoha.
Nov. 22, Thu.
Srila Bhakti Pramoda Puri Gosvami Maharaja's disappearance festival.
Nov. 23, Fri.
End of Kartika-vrata, Urja-vrata and Caturmasya. Vaisnava homa (honoring Vaisnavas).
End of Sri Vraja Mandala Parikrama 2018