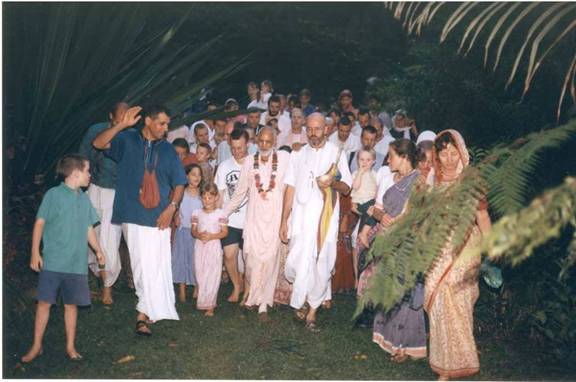 10th Australian
Festival of Devotion
Featuring
Srila Bhaktivedanta Narayana Maharaja
February 1st– 7th, 2008
Dear Devotees,
January 9th, 2008 - Important Update regaurding festival cost- Please see below!
Please accept our most respectful obeisances. All glories to Sri Guru and Gauranga. All glories to Sri Sri Radha Vinoda Bihariji.
The devotees of Australia would like to extend a warm invitation for everyone around the world to come and join in the Festival of Devotion held in Murwillumbah for the 10th time.
We will be celebrating the most honorable occasion of Srila Gurudeva's Vyasa-Puja on Thurs. 7th of February. Please invite everyone you know to attend this momentous occasion of his divine appearance.
This will be the fourth time we have celebrated Srila Gurudeva's Vyasa-Puja in Australia. We encourage you to come and take advantage of such a rare opportunity to have the association of a pure Vaishnava.
The festival is open for all and is free of charge, but any donations will be gratefully accepted.
The festival will be held at the Murwillumbah Showgrounds just a few minutes walk from the centre of the town. You will be within easy reach of shops, supermarkets & anything you require for your daily needs. It's also a good time to explore the local water holes & rivers – just ask the locals!
Due to unforseen circumstances, the financial support that was expected for this year's Australian Festival is no longer available. Therefore it cannot be free of charge.
The festival fee is:
$100 for adults
Children free
Sincere apologies for the unexpected changes in our invitation. Please excuse any inconvenience we have caused.
We look forward to celebrating Srila Gurudeva's harikatha and Vyasa-puja festival with you all.
There is ample space for camping at the grounds of the festival. This is free of charge. There are shower and toilet blocks on-site for men and women. Two meals will be provided daily. Alternatively bookings can be made at nearby motels and caravan parks (but get on-line now & book early). If you would like to purchase a tent here rather than carry one around with you, please notify us and we will get it on your behalf. They are quite inexpensive.
Also, we can arrange transport for you if you're arriving at the local Coolangatta Airport. Please notify us of your arrival in advance so that we can do our best to assist you.
You can view our website: www.giriraja.org.au/2008/index.htm for details on transport (from Brisbane and Coolangatta airports), accommodation, venue location, and schedules.
Please inform us if you are coming & let us know if you have any special needs.
Contact:
General enquiries: (do not dial the (0) if phoning from outside Australia)
Candramukhi Dasi - Enquiries relating to transport or pickups
##61 (0)2 66 795 258
##61 (0)409 780 468
Mahaprabhu Dasa – General enquiries
##61 (0)266 726 515 (h)
##61 (0)404 791 038 (mobile)
Subal Krishna Das - Enquiries relating to accommodation
## 61 (0)2 6672 4873 (h)
## 61 (0)437 303 675 (mobile)