Festival of Bhakti Yoga with
SRI SRIMAD BHAKTIVEDANTA NARAYANA GOSVAMI MAHARAJA
August 4th to 11th, 2010
Moscow, Russia
Dear devotees and friends,
Our beloved Srila Gurudeva, Sri Srimad Bhaktivedanta Narayana Gosvami Maharaja has mercifully agreed to preside over Bhakti Yoga festival in Moscow, Russia which will take place on August 4th to 11th, 2010.
Srila Gurudeva will be accompanied by his sannyasis and senior disciples and followers.
We pray that Srila Gurudeva will sprinkle his mercy on all of us and will help us to enter the path of pure bhakti, saving us from the raging forest fire of material existence.
May the nectarian shower of exalted harikatha pour incessantly from the lips of the best of tattva-jna, bhavuka and rasika Vaisnavas, and may the holy names of Sri Hari resound loudly from the mouths of hundreds and hundred blissful devotees during this 6th Srila Gurudeva's festival in Russia / C.I.S. countries!
Hare Krishna Hare Krishna
Krishna Krishna Hare Hare
Hare Rama Hare Rama
Rama Rame Hare Hare
Video invitatitation (English, click here)
Video invitation (Russian with English Subtitles)
Festival Site Location

Update August 5th!!!
We are very happy to announce that despite many difficulties, Srila Gurudeva's Moscow festival is starting on the 6th August, and Srila Gurudeva is coming on 8th August. The festival site is now different though. It is called Ethnomir (Ethno World) and is located 90 km south west of Moscow. Here is its website (sorry, it is only in Russian):
For your transfer from the airport, please contact Taruni didi at +7 (929) 567-8108 or This email address is being protected from spambots. You need JavaScript enabled to view it..
Here is the way to the festival site from Domodedovo airport, click this link.
Festival organizers are sincerely apologizing for all the temporary inconveniences. We are hoping to see you very soon!
Facilities
(see above message)
Reservations

To reserve your room or make inquiries, please contact the Festival Seva Team at This email address is being protected from spambots. You need JavaScript enabled to view it. e-mail address is being protected from spambots. You need JavaScript enabled to view it or call (+7)9055737037.

IMPORTANT! Arrival date is 3rd August. The program starts from mangala arati of 4th August and continues till 11th August inclusive.

To register for the festival, please state your legal name, spiritual name, city, country, and the number of people arriving in your party.


Festival Fee

Western devotees can pay the festival fee (in roubles) upon arrival (9,500 Russian roubles which is approximately USD 305 or EUR 250 at the current exchange rate).

Total festival fee is 9500 Russian roubles for 9 days and consists of 3 parts:
Accommodation (4500 Russian roubles),
Prasadam three times a day (2500 Russian roubles),
and festival fee itself (2500 Russian roubles).
Children and young people less than 18 years of age do not pay the third part of the festival fee, which means that the festival costs them 7000 roubles per person.
Accommodation fee is counted per day/ per person. If you rent a room, it will cost you 500 roubles per day, or, if you wish to bring your own tent, it will be then 200 roubles per day. It will also cost 200 roubles per day for accomodations in a general hall with mattresses (5 to 6 persons in each room).
For the kind attention of foreign devotees coming to the festival:
Please note that the festival fee is accepted in Russian roubles only. Please make sure that you have the amount in roubles. You can easily change your currency into roubles beforehand at exchange points in the city.

How to reach the festival site

We are strongly recommending you to approach us for your transportation to the festival site.
To order your transportation, please contact Taruni dasi at This email address is being protected from spambots. You need JavaScript enabled to view it. , phone # (+7)929-567-8108. Please specify your flight / train details and the airport / train station you are arriving at, as well as the time of your arrival, number of people, any contact phone number. if you have. Please, do it ASAP – only few days remain before festival. Taxi driver with the special sign – FESTIVAL of BHAKTI-YOGA in MOSCOW – will wait for you in the concourse (where you will proceed after receiving your luggage and passing customs control). Taxi will get you directly to the festival site. The cost of taxi is 2200 rub = $73 = €56. Time of journey – around 2 hours (without traffic jams).
If you still wish to reach the festival site on your own, you can do that in the following ways:
Location has changed! Please see above update in yellow text at top of article!
Visas to Russia
For the attention of foreign devotees:
To visit Russia, a visa is required for the citizens of European Union, U.S.A., Australia and other countries. You can easily receive your visas (including invitations) using tourist agencies in your countries. Please see the list of recommended agencies in your countries here: http://russianvisa.net/ .

All of those companies are very relaible and are closely related to Russian embassies in the countries listed.
Please note that upon arrival in Russia, you will have to register with the government within 3 working day upon arrival. Local devotees will help you in that regard.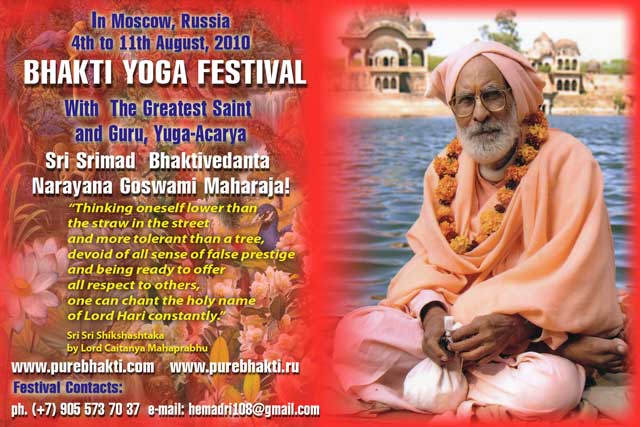 We are eagerly awaiting your association at the festival!
Yours in the service of Sri Hari, Guru and Vaisnavas,
Festival Seva Team