All Glories to Sri Guru and Gouranga!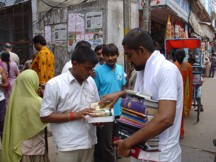 This is the third book fair! With the causeless mercy of our beloved Srila Gurudeva and Sri Sri Radhavinodbihariji we were able to do both of the previous book-fair very successfully. In New Delhi; India, Srila Gurudeva's books are being distributed in so many languages and in such massive numbers. Again we are doing the book-fair at one of the largest "India's national book-fairs" in India. Indian and international book distributors and publishers take part in the event, which is attended by more then a million visitors. This affords us a golden opportunity to please our Srila Gurudeva by distributing his books to the people of India.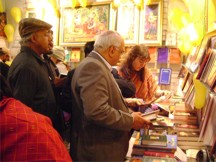 Our beloved Srila Gurudeva is so merciful! The distribution of his books pleases him to such an extent that at the time of presenting reports of the previous book fair in New Delhi Math, he became so happy after seeing the report and said "Ohh! I am very happy! Very good! So many books are being distributed in all over the world, in so many languages. I am very happy! I want this to be continued always like this even if there is not so much profit and just the cost is maintained. Last year Srila Gurudeva gave three international air tickets to all the three top book distributors worldwide as a reward.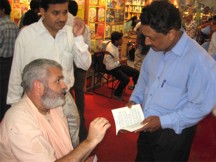 We cordially welcome devotees worldwide to join us.
I invite you to contact us with any questions about the fair, at This email address is being protected from spambots. You need JavaScript enabled to view it..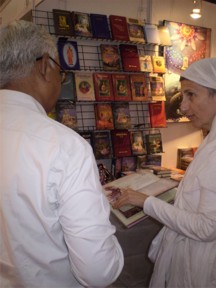 The date: 30th August to 7th September 2008
The easiest way to get to the book-fair location "Pragati Maidan" is by the Delhi metro right from Sri Raman Bihari Gaudiya Math Janaka-puri New Delhi.   
Yours in the service of Hari, Guru and Vaisnavas,
Ramchandra Das.