April 27th, 2009 Aksaya Tritiya
Dear Devotee friends in the worldwide sanga,
Please accept our dandavat pranams. All glories to Sri Sri Guru & Gauranga! All glories to Sri Sri Radha Vinode Bihariji!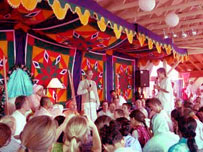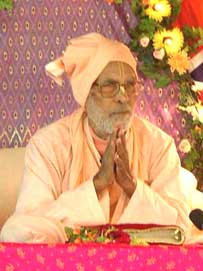 We would like to announce an opportunity to render a rare and strategic service to Srila Gurudeva. After careful consideration and extensive discussions with senior Vaisnavas, the board of directors of Bhakti Projects Inc. (Srila Gurudeva's registered US charity), in consultation with Srila Gurudeva, have taken the decision to sell or lease the Badger property in Northern California. This property, formerly owned by Nirguna Prabhu, has been the site of the annual bhakti festivals with Srila Gurudeva and over 500 devotees worldwide for the last 13 years. You may have been there or heard of these wonderful festivals. Many saintly persons have visited Badger and our own beloved Gurudeva has visited there every year since first coming to the West, speaking Hari Katha and conducting Govardhana Anakuta festivals. Srila Gurudeva has often commented on his hopes and plans for Badger. Clearly he sees a special future for the property. The Vaisnava community considers the Badger property a holy tirtha.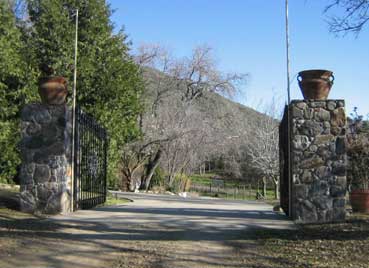 Bhakti Projects Inc. (BP) purchased the property from Nirguna Prabhu in 2007 when his family circumstances demanded he spend more of his time in Hawaii. Since then, BP has overseen the property and managed its financial administration as agents of Srila Gurudeva. The primary use of the property has been to serve as a base for the New Vraja Village School (gurukula), which provides academic and spiritual education for devotee children K-12. The school has now downsized to a point where it no longer needs such a large facility, and will continue to provide education for the local community through home schooling in cooperation with the local Badger public school. We are therefore now looking for alternative devotional uses for the property.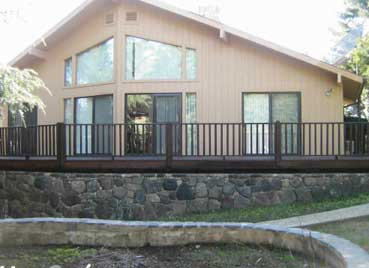 The board of BP in consultation with Srila Gurudeva has concluded that the property needs more than the basic administration that BP can offer. Ideally we would like the property to be developed into a spiritual destination that would attract devotees and visitors alike. This means finding qualified devotees who are excited by the chance to preserve and develop this special property into something wonderful. Therefore, we are offering the property for sale or lease to qualified devotees to give them full control or 'mamata' (possessiveness) for the project. We humbly invite correspondence from interested parties who have the financial means, and managerial capacity to acquire the property and bring it into its full potential as a holy tirtha, retreat center and / or place of learning. We will
also invite devotee applicants  (or a group of applicants) who would like to simply make the property their residence and preserve the land as a holy Tirtha. This opportunity comes around once in a lifetime to live in such a sacred place in the west.
The Badger School is winding up its school year on May 31st,, 2009. There are two families (4-5 persons) who desire to stay on the land and rent one of the two large houses, on a month-to-month basis, and continue the deity seva to Sri Sri Radha Govinda and regular spiritual programs. The community of devotees in Badger desire to see the property continue to be owned and operated by devotees for devotional purposes, and will provide support for such local programs. We are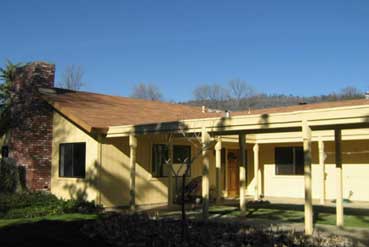 open to hearing inquiries and offers for purchase or lease of the entire property.
Serious and qualified persons are invited to correspond with us: This email address is being protected from spambots. You need JavaScript enabled to view it..
The Board of Directors Bhakti Projects Inc. Martinez, CA - Brajanatha das, Radhakanta das, Ratikala devi dasi, Vishvambhara das
Consulting devotees: Nanda Gopal das, Bhudhara das
Property: Two Houses, one 3Bdr/2 bath, and another 2Bdr/2bath, plus additional buildings on 8.79 Acres.