Dandavat Pranams
Please accept my humble obeisances
All Glories To Sri Guru and Sri Gauranga
By the time we left the temple on Saturday the 2nd of May, after the weekly Temple Programme it was already 11pm. Sripad Bhakti Vedanta Bhikshu Maharaj who was very enthusiastic in wanting to distribute books with us decided it was just too late for him as Mangal Arati would be running right on schedule in the morning. We loaded the car boot with various books, made a stock list and Vijay Krsna prabhu had set the price list on only 2 of the 8 titles we were going to distribute. The rest were "FREE but Donation based."
Led by our visiting Brahmachari from Vrindavan, Krsna Kanta prabhu who was very excited at the prospects of distributing books anywhere anytime, we all got the blessings of Maharaj and began the night.
Bangsar, which is just 20 minutes away from the temple was decided as a more exciting location to distribute books given that it is filled with party-goers on Saturday nights and the 3 main streets with almost 100 restaurants, pubs and diners is busy with the hip and happening. So why not try something new, after all no one said transcendental book distribution had to be in austere locations only. Nothing ventured, nothing gained.
As we turned into Jalan Maarof from Jalan Travers and were about to pass the Ramalingeswara Temple on the left, traffic was slowing to almost a halt. Large groups of Indians amounting to about 200 people were seen all over the road. As we looked to the right of the road we noticed a huge chariot all lit up and making its way to our side of the road.
Quickly we decided this would be the perfect opportunity to distribute books and those lovely prashad cakes packed in little packets by our wonderful Carumukhi didi. We had to think fast. We passed the crowd and a short distance away quickly parked in front of a "no parking" spot of a closed lighting showroom that was just waiting for us. Everyone practically flew out of the car, popped the booth and grabbed especially the Shiva Tattva books and prashad in little bags and went headlong into the crowd.
It was such a perfect opportunity. Little did we know that the Chariot was for Goddess DurgaiAmman from the nearby Nageshwari Amman temple as it was the yearly auspicious Chitra Pournami. Indeed she must have blessed us for our little endeavour for Lord Sri Krsna. (Ahhh! That's why we had to leave the temple a little later)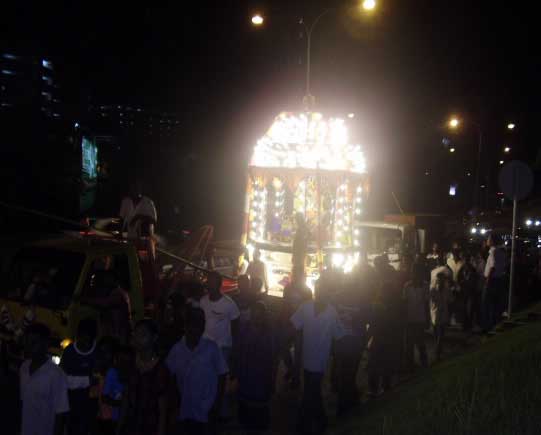 Chariot Procession in full force along Jalan Maarof in Bangsar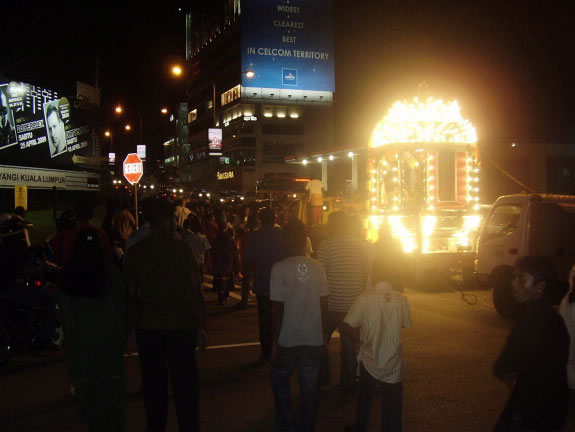 People were already in a very devotional state having walked with the chariot some distance so when we were handing them books and prashad they were just to happy to receive with open arms. One family even came back and asked for more of those delicious prashad cakes. So we asked them to pose for a photo with us and they were just too happy to smile. That's (L to R) Balaram prabhu, Ramesh prabhu, Jaya Govindha prabhu, Krsna Kanta prabhu (at the back) , the family and Hema didi (me)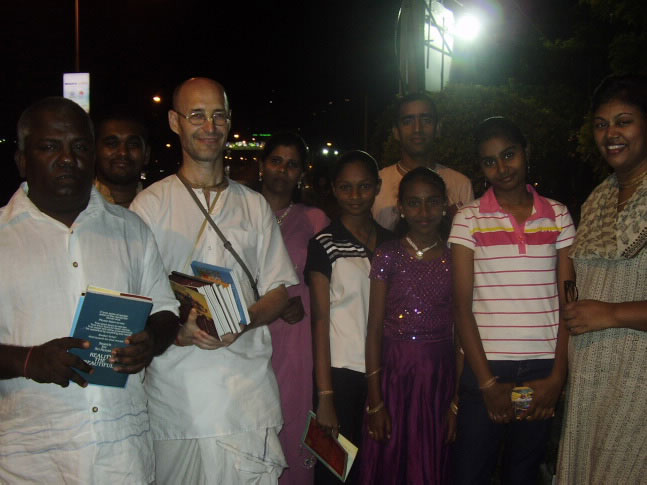 After this photo was snapped we got into the car and proceeded towards the Telawi Streets in full anticipation but as we circled the area almost 3 times we realised the entire area was just dead. This is not the Bangsar we know. Then it made sense. Friday being May Day and a public holiday meant a 3 day weekend which allowed most people to simply getaway and leave town. So we decided we would attack Bangsar on another night and decided on the next nearest town which was actually scheduled for next weekend - Brickfields.

Once again, Brickfields which is like a Little India to those of us in Petaling Jaya although there is indeed another Little India further into KL, know that this little place has almost 12 Hindu temples, mosques, churches, the biggest Buddhist temple and various other temples. We approached Jalan Sambanthan along the Seethram shop stretch and once again found a parking spot waiting for us, which was quite amazing considering that busy road. Krsna Kanta prabhu was quick to fill his bags with books and prashad and made sure everyone's had an ample supply too. As the car had nearly run out of petrol I had gone for a refill and brought chilled drinking water back for the team. Seen here are some patrons having supper on the pedestrian stretch of the road where tables and chairs are put up at night for customers.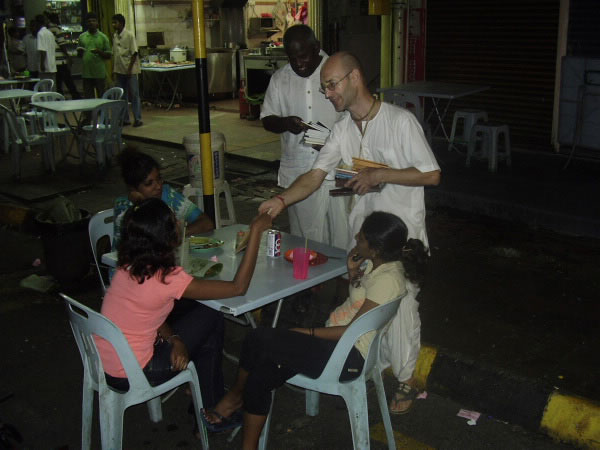 Jaya Govindha prabhu impressing the girls with his Finnish charm and smile. Many people were very impressed, and sat up and took notice when Jaya Govindha prabhu even walked through the shops or stall with his book. In must be the pure white dhoti, tilak, kantimala and Gurudev's mercy working through him. People would just donate RM10 notes for even free books, to him.

As we finished with this row and headed to the row shops in front of this, we were joined by Santana prabhu who is Ramesh prabhu's friend and has come to listen to Gurudev's lecture at our temple. One family in a shop upon speaking to Krsna Kanta prabhu asked him to invite all his friends and wanted to buy us any drink we wanted. Prabhu's warm personality drew the attention of another family who wanted to know where our temple was. Krsna Kanta prabhu took their details and gave them all our details and asked them to inform him when they were coming so he would cook prashad for all of them.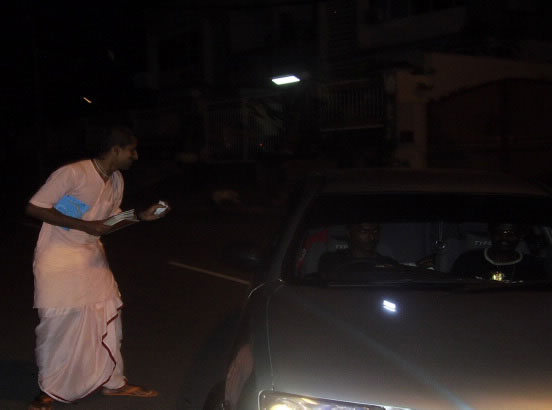 After finishing this stretch of shops we got into the car and drove to an inner part of Brickfields where the Gopala's restaurant is. Only 2 customers were there that night so we proceeded a little further up where the red light street actually begins. Being foreigners, Krsna Kanta prabhu and Jaya Govindha prabhu were told that this row would be a little rough but they remained completely enthusiastic. The people on this part of town were not at all rude or offensive to any member of our team. As Balaram prabhu pointed out, they were very receptive even though sometimes a little spaced out. It really didn't matter, because after all they would have found Gurudev's books in their hands once they sobered up. By and large most people were moved or appreciative that a small group of people were sacrificing their time in a worthy way. It was easy to see that they respected that.

Calling it a night, we made our way back to the temple and realised we spent about 2 and half hours and had distributed 108 books in that short time. It was a wonderful night indeed and we discussed the next book distribution which was going to be as much fun if not more.

Transcendental Book Distribution Ki Jaya !
Srila Gurudev Ki Jaya !