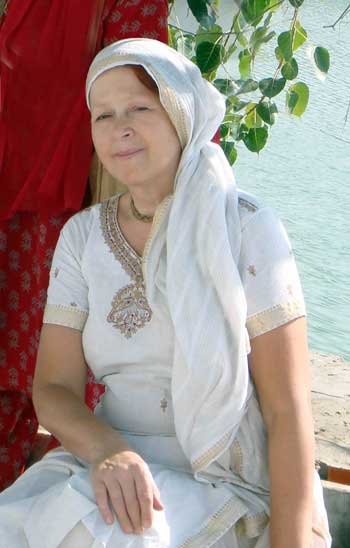 Dear Devotees,
Please accept our dandavats pranamas,
Jaya Srila Gurudeva!
We are very sad to inform you that on the early morning of 20th May, 2009, on the auspicious day of Apara Ekadasi, our beloved godsister Nandini didi of Yaroslavl, Russia, left her body.
Nandini didi was the main preacher of Srila Gurudev's mission in her city of Yaroslavl (5 hours by train from Moscow) and one of the leading preachers in Russia. Over the years, she had attracted many new people to Srila Gurudev's movement through ayurveda and healthy way of life. It wouldn't be an exaggeration to say that Nandini didi was the real mother of Yaroslavl sanga.
Nandini devi dasi started practicing Krsna consciousness in Yaroslavl in 1995, and at once became one of the most active congregation members at the local ISKCON temple. A little later, she started a nama-hatta group and a prasadam distribution charity, having organized a lot of programs and presentations for the general public.
When Sripad BV Padmanabha Maharaja first came to Russia back in 1999, he was staying in Nandini didi's house for his preaching programs. Then, she became so much attracted to Srila Gurudeva and took harinama and diksa initiation from him in 2000, when Gurudeva visited Russia for the first time.
Then, Nandini didi was regularly preaching to new people and accepting Srila Gurudev's preachers in her city, so Yaroslavl sanga was constantly growing year after year. She was very successfully facilitating the preaching programs of Sripad BV Padmanabha Maharaj, Sripad BV Nemi Maharaj, Sripad BV Vana Maharaj, Sripad BV Tridandi Maharaj and Sripad BV Damodara Maharaj.
After Srila Gurudeva learned about Nandini didi's departure, he wrote the following letter to the devotees in Russia:
~~~~~~~~~~~~~~~~~~~~~~~~~~~~~~~~~~~~~~~~~~~~~~~~~~~~
All Glories to Sri Sri Guru & Gauranga!

Swami B.V. Narayan

Founder Acharya of Bhaktivedanta Trust International [BHAKTI] and
International Gaudiya Vedanta Trust

Sri Kesavji Gaudiya Math - Mathura [UP] 281001 India - Ph.: + 91
565.2502334

President of Sri Gaudiya Vedanta Samiti Trust and Vice President of Sri
Gaudiya Vedanta Samiti

________________________________________
My dear devotees in Yaroslavl and other parts of Russia, my heartly blessings are for you. All glories to Sri Sri Guru and Gauranga, all glories to Sri Sri Radha Vinode Bihariji.
I received the news about my dear darling daughter Nandini departing from this world. I remember her and became sad that she is no longer with us to give her kind association. My heartly blessings are for her and I pray to Sri Giriraja and Sri Sri Radha Krsna to bestow Their causeless mercy upon her that she will always be in the association of high class, pure devotees. Very quickly she should perfect her bhajan, obtaining complete absorption in transcendental loving services at the lotus feet of Sri Sri Radha KrsnaYugal.
Your ever well-wisher,
Swami B.V. Narayan
~~~~~~~~~~~~~~~~~~~~~~~~~~~~~~~~~~~~~~~~~~~~~~~~~~~~
We will always remember our dear godsister, Nandini didi, and all her loving services.
On behalf of the Russian sanga,
Swami BV Sadhu