To all devotees and friends,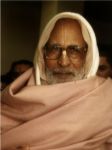 Please accept my humble obeisances.
It is our pleasure to inform you that Sripad BV Madhava Maharaja's book, the first volume of Srila Gurudev's biography is planned to be released this Kartik. As of this time, all preparations are being done and layout will soon begin.
If you have in your possession or have taken a very nice photo of Srila Gurudev which you think would be a perfect photo for the book cover, then we would appreciate very much if you can send to us. You can send to This email address is being protected from spambots. You need JavaScript enabled to view it.. Since we are still in the process of selecting the photo, you can send even low resolution photo for now and we will ask the high resolution copy later if your photo is chosen.
Deadline for the submission of photos is on September 2.
Thank you very much.
Krsna-karunya dasa