Please accept our dandavats pranams, all glories to Sri Guru and Sri Gauranga
Today we received the sad news that Sripad Hrishikesha Maharaja had passed away on 6th September this year.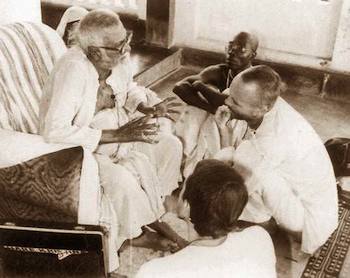 We remember him with much fondness. He has rendered incomparable seva to the mission of Srila Gurudeva in the years that we started to travel outside India. At that time he was based in Singapore, Philippines, and Malaysia. Very enthusiastic, tirelessly, he printed magazines, books and started centers for Srila Gurudeva in these countries. He also joined the parikrams in Vraja and Navadvip, and he made beautiful videos for sharing with the devotee community worldwide.
We miss him and pray that he will be in excellent, high class devotee association always.
Once some devotees were trying to video tape Srila Bhaktivedanta Trivikrama Maharaja and told him that they would make him world famous through the video. He gave for their benefit a very quick and loud response, "I want to die unseen and unheard of". These conditions were almost met by Sripad Hrishikesha Maharaja, who many of us haven't seen in years. But how can we forget his warm personality, his friendship, and all the service that he has done. Many of you have benefitted unknowingly by his very astute questions placed at the lotus feet of the Vaisnavas.
What is the role of Yogamaya, the Lord's internal potency?
But how can one perceive this sort of hypnotism?
It is said that when Krishna goes to take bath in the Yamuna, all the waves rush in to embrace Krishna.
When we see color, what are we actually seeing?
And person means thinking, feeling, willing.
How can we differentiate consciousness from mind?
So externally we see the Ganges as water, but in reality she is a person.|
Then what is the difference between the world of reality and the material world?
When our faith is growing in a particular direction, how can we know that our realizations are coming from our own internal self, from our inner consciousness, and not from the influence of the environment, the circumstances that surround us?
So that shadow is Rahu?
You may find the anwers and context around these questions and statements in Subjective Evolution of Cousciousness, by Srila Bhakti Rakshak Sridhara Gosvami Maharaja. In this publication, Sripad Bhaktisvarupa Damodara Gosvami Maharaja along with Sripad Hrishikesha Maharaja presented deep questions which churned the poetic English presentations of Srila Sridhara Maharaja.
Not only did Hrishikesha Maharaja ask questions, he edited publications, ran the printing press, and paid for the entire cost of certain books. Here is an excerpt from the preface to Sri Sri Prapanna Jivanamrtam, Prositive & Progressive Immortality, by Srila Bhakti Rakshak Sridhara Gosvami Maharaja:
"And for their dedicated effort in securing the necessary funds and assistance for the printing and publishing of the work in a most dignified presentation, special mention is due to Sripad Dayadhara Gauranga Dasa Brahmacari Prabhakara Prabhu,* and all the good devotees assisting him."
*Hrishikesha Maharaja's Bramachari name and title given by Srila Bhakti Rakshak Sridhara Gosvami Maharaja.
Hrishikesha Maharaja also served in starting the Harmonist Publications under the Guidance of Srila Bhaktivedanta Narayana Gosvami Maharaja.
Below are two email letters and one article, the first one from a purebhakti.com reader Japamala dasi, who respectively sent in the details of his passing. The second letter is some remembrances from Sripad Tirthapada Prabhu who served side-by-side with him in publications, and the thrid is from Sripad BV Padmanabha Maharaja, another close friend:
All Glories to Sri Sri Guru Gauranga
Dear Respected Swamis, Prabhus and Didis,

Please accept my humble obeisances.

This morning (September 11th, 2010) I received the sad news of Sripad Hrishikesha Maharaja's passing away from his bodily life. Before receiving Sannyasa, Maharaja was also known as Dayadhara Gauranga Prabhu and professionally used his given name of Dr. Daniel L. Murphey.

Apparently Maharaja passed away Sunday night, September 06, 2010. An autopsy was performed on September 8th. Until the results will be revealed we won't know the true cause of death, but the initial suspected cause is a heart attack.

A university colleague of his took the liberty to inform all contacts in Maharaja's e-mail contact list, which is how I learned of Maharaja's passing away.

It is my great fortune to have met Maharaja 26 years ago. The course of my life changed that day for the better, because I was introduced to Srila Bhakti Rakshak Sridhar Goswami Maharaja, who later accepted me as his disciple.

Maharaja served under the guidance of numerous exalted Vaishnavas such as our Srila Bhakti Rakshak Sridhar Goswami Maharaja, Srila Bhakti Sundar Govinda Maharaja, Srila Bhakti Pramod Puri Gosvami Maharaja, Srila Bhakti Ballabha Tirtha Maharaja and Srila Bhaktivedanta Narayana Gosvami Maharaja.

Dear Vaisnava community, please remember Maharaja in your prayers for his safe passage and for his eternal service to our beloved Srila Gurumaharaja.

Respectfully,
Japa Mala dasi

Dandavats Prabhu,
All glories to Sri Guru and Gauranga.

I am extremely saddened to hear a friend and comrade of his stature has left the world. I have been wondering where he went for so many years. I was hoping he was still around.

His brahmacari name was Dayadhara Gauranga Dasa Brahmacari, given by nitya-lila pravista Srila Bhakti Raksaka Sridhara Goswami Maharaja who also gave him the title "Bhakti Prabhakara Prabhu". He accepted sannyasa from pujyapada Srila Bhakti Pramoda Puri Goswami Maharaja after Srila Sridhara Maharaja departed in 1988. I am not exactly clear which year he took sannyasa, but he was encouraged to go to Srila Sridhara Maharaja by Hamsaduta Prabhu (at that time he was a sannyasa in ISKCON). It turns out that he became the First Western disciple of Srila Sridhara Maharaja. He had a brilliant mind and was a Doctor in neurobiology.

The thing that always struck me about him was his thoughtfulness and individual way of doing anything. He was the closest person I ever knew that was more like an "avadhuta" than I ever encountered. I mean, to the point of brilliancy. He helped Bhakti Sagara Maharaja publish some of the best books and most beautiful of Srila Sridhara Maharaja. Most of them were paid for by him. In England I remember he used to ride around on a motorcycle, collecting and taking whatever Prasadam he could get. He also had a great sense of humor, but at the same time he had a very grave side also. He told me his story how he got initiated one time,

"When I asked him for initiation, Srila Sridhara Maharaja asked me to come back the next day which was Gaura Purnima. When I came back he gave it to me immediately. Srila Sridhara Maharaja never refused giving anyone initiation on that day." I also lived with him in Malaysia for a month. At that time he had a rented house and the Malaysian devotees were helping him. He allowed me to give class regularly there, and it was due to his influence that they loved me there.

He always treated me with great respect because of especially one incident that happened. Srila Sridhara Maharaja had sent me to help edit the Bhagavad Gita. When I arrived in England, Sagara Maharaja and him were engaged heavily in trying to complete the book. They told me that they did not need me and even insinuated that I leave the temple. I left and wrote Srila Sridhara Maharaja who chastised him and Sagara Maharaja heavily for not accepting my help. From that day forward, they both were very careful with me, with Dayadhara Gauranga Prabhu (HM) giving me one of the first copies when the Gita came it. I really appreciated his association.

He was humble to all Vaisnavas, sensitive and high-strung, honest and determined to make his goal. I personally think we lost a great asset to our preaching when we lost him. I offer my obeisances to his lotus feet and hope Sri Guru and Gauranga give him the best in future life.

Your humble servant,
Tirthapada Das

All glories to Sri Guru and Gauranga.

It is with great sadness that today I received the news that my dear godbrother and friend, Pujyapada Bhakti Prakash Hrishikesha Maharaja, has departed from this world so soon and so suddenly. He was a great soul who staunchly served Guru and Gauranga and accomplished many landmark services in his devotional career.

He was a Hari Nama disciple of Srila A.C. Bhaktivedanta Swami Prabhupad, a diksha disciple of Srila Bhakti Rakshak Shridhar Maharaja, and a Sannyasa disciple of Srila Bhakti Pramode Puri Goswami Maharaja. And he also accepted Srila Bhaktivedanta Narayana Goswami Maharaja as one of his siksha Gurus.

He joined ISKCON in the later years of Srila Prabhupada's divine presence on the planet, and therefore only received his first initiation from Him. He was brought to meet Srila Bhakti Rakshaka Shridhar Maharaja after the disappearance of Prabhupada, and quickly accepted Him as his worshipable diksha Guru. The name given to him at that time by Srila Shridhar Maharaja was Sriman Dayadhara Gauranga dasa. Later when he began to manifest extraordinary service capacity to the lotus feet of his Guru Maharaja, Srila Shridhar Maharaja gave him the title Bhakti Prabhakar. He said, "Dayadhar Gauranga prabhu has volcanic energy for service."

Hrishikesha Maharaja was a highly intellectual and educated personality and possessed a PHD in Neurobiology. He used to be a professor in Texas, His native state, and would instruct the student doctors in the intricate procedures of brain surgery. When he became a devotee in ISKCON, he was soon taken into the Bhaktivedanta Institute as one of the PHD Vaisnava members.

He was also a daring and adventuresome preacher, and was instrumental in opening up various preaching fields in the late seventies and early eighties in England, Germany, Bulgaria, Malaysia, Singapore and Philippines. He had traveled the length and breadth of the Malaysian peninsula on his motor scooter (one of his favourite conveyances for preaching) visiting factory owners, preaching to them, holding house programs and distributing literature. It was rare to see him without his book bag on his shoulder.

He was very impressive to the people he preached to, and they were very moved by his devotional influence. He was a very brilliant and original thinker, had a very unique sense of humour, and never failed to entertain and impress his listeners. He delved deep into the vaisnava philosophy, as would such an educated personality, and put many sincere questions to Srila Shridhar Maharaja. Books of Srila Shridhar Maharaja, such as Subjective Evolution of Consciousness, contain the transcripts of some of those conversations.

Although a deep and penetrating thinker, he was as far as one can get from being an armchair philosopher. He was an action man, and almost to the extreme. Whenever something was needed for the service of Guru and Gauranga, he would jump immediately to accomplish whatever task was required. He was fearless and like a warrior on the battlefield for his Guru's service. Whatever it took, Hrishikesha Maharaja would go practically to any extreme disregarding his own comfort.

One story I remember which illustrates his readiness and daring in service to Guru was in his involvement with the printing of the English version of Srila Shridhar Maharaja's Bhagavad Gita, which was subtitled, The Hidden Treasure of the Sweet Absolute. It was in 1984, that I first met him in the temple of Sri Caitanya Saraswat Math in Blackheath, London. He was visiting the temple having returned from Germany where the printing of the book was currently going on.

The small team of devotees were in the final stages of printing the book. Hrishikesha Maharaja wanted that this book would be a monumental publication in every aspect, and he personally raised the funds for the printing, as well as oversaw the printing, keeping to tight schedules of daily going in to check the proofs. He demanded that the printing should be of the highest caliber and therefore also insisted that nothing less than the top level printing equipment, the German Heidelberg press, should be used. Therefore, the printing was done in Germany. He personally relocated there and would travel back and forth on his motorcycle in the middle of the severe winter snow storms on the slippery and icy roads. Once he even had an accident sliding off the road onto the side, luckily avoiding heavy injury. He simply picked up his bike and continued unimpeded.

Such was his nature. This is why Srila Shridhar Maharaja gave him this title Bhakti Prabhakar. He was always manifesting extraordinary capacity to accomplish important seva.

When he first met Srila Shridhar Maharaja, it was just after the disappearance of Srila Prabhupada, around 1979, and at that time, Shridhar Maharaja had not given initiation to any foreign devotees. When Hrishikesha Maharaja met him, he was so deeply impressed by this great Mahabhagavat Vaisnava Saint that he immediately asked to be accepted as his diksha disciple. Srila Shridhar Maharaja agreed and accepted him. This was the first time after Prabhupada's disappearance that any devotee from ISKCON went outside of the institution for initiation. His initiation created quite a stir amongst the ISKCON GBC because now they saw that such a senior and elevated personality as Param Pujyapada Shridhar Maharaja could pose a threat to their absolute control of the rank and file devotees. Therefore, Hrishikesha Maharaja soon became forced out of the ISKCON institution.

He did not care however since he had now found the true Rasika Vaisnava who could give him all siddhantic knowedge and pure bhakti. His heart became immersed in trying to carry out every single desire and order of Srila Shridhar Maharaja. Thus his years of direct service to his Guru Maharaja began and continued up to the point of Srila Shridhar Maharaja's departure in 1988.

During those years, as Dayadhar Gauranga prabhu he personally financed many of the publications of His Guru Maharaja by opening up an art gallery in one of the London Underground Stations. I would visit him there in the mid 80's and I would see that although he was a brahmacari, he would live in this gallery in a small back room, perform his mongol arotika and chant his rounds there. He would work long hours daily and from this he was able to donate many thousands of pounds for the publication work. In many ways, his service mood much reminded me of the legendary Jayananda prabhu who was the famous early disciple of Srila Prabhupada in America, and who financed the early San Francisco temple by driving a taxi car and donating his entire salary to Srila Prabhupada.

Dayadhara Gauranga prabhu continued his Guru seva after the disappearance of Srila Shridhar Maharaja, preaching in England, Bulgaria, and Malaysia. He also started a temple in the North of Malaysia and financed it by his samkirtan and book distribution.

In 1994 he began to associate with Srila Bhakti Pramode Puri Maharaja who at the time was the seniormost living vaisnava in the line of Srila Bhaktisiddhanta Saraswati Prabhupada. Soon Srila Puri Maharaja blessed him with the sannyasa order of life and he received the sannyasa name, Bhakti Prakasha Hrishikesha Maharaja.

For a couple of years in the mid nineties he also joined with the preaching activities of the World Vaisnava Association and became the chief editor of the magazine, The Vishva Vaishnava Raja Sabha. At that time, he also traveled on the first western preaching tours of the exalted Gaudiya Vaisnava Acarya, Srila Bhakti Ballabha Tirtha Goswami Maharaja, and reported in his magazine some of the events from those tours.

When he came into the assocation of Srila Bhaktivedanta Narayana Maharaja in around 1998, he immediately began to organize printing of huge orders of literature in Singapore where he had his base at that time. He also financed and established a temple in a beautiful mansion in a prestigious location in Kuala Lumpur, Malaysia where Srila Narayana Maharaja stayed and held His lectures on His 2000 winter tour. He came on many of the Western preaching tours of Srila Narayana Maharaja as well as His Vraja Mandala Parikramas, and would bring his video camera with him filming all the lectures. He captured some of the most important moments of our Gurudeva's deep Hari katha for all the future generations of vaisnavas to view.

I used to sit with him for many hours conversing and he was the most interesting person, always supplying a novel perspective on any topic. There was never a dull moment when you were with him.

He was a truly devoted soul. He was loved by his Gurudevas and he was an exemplary Guru Sevak. Few could keep up with him in his pace of service, and that is why once Srila Shridhar Maharaja commented about him, "Dayadhar Gauranga prabhu will have to work alone". He was a one man dynamo of service.

We will all greatly miss his inspiring devotional association. I pray that His Gurudevas will continue to engage him in such confidential service in his march to the eternal pleasure groves of Vrindavan to serve the lotus feet of the Divine Couple, Sri Sri Radha Govindajiu.

All glories to Sri Srimad Bhakti Prakasha Hrishikesha Maharaja!

Vaisnava dasa anudasa,

B.V. Padmanabha Swami