A five-day Festival
August 12 - 16, 2008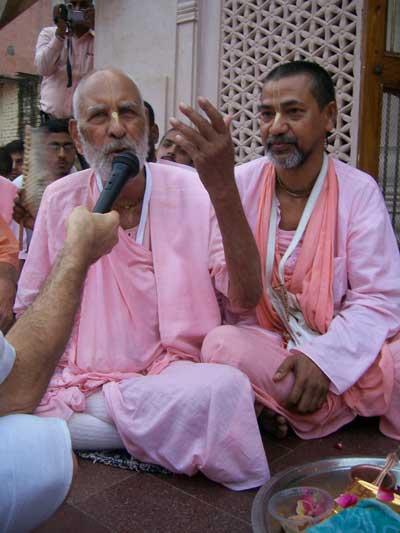 After spending time writing in Haridwar and Hrsikesa and giving one public program in Haridwar, Srila Narayana Maharaja arrived in Vrndavana on August 12th. There in Vrndavana, he resided in his bhajan kutir in Gopinatha Bhavan, *[see endnote 1] beautifully situated on bank of the transcendental Yamuna River.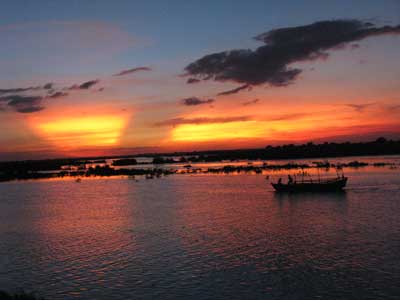 August 12th was the first day of Jhulan Yatra, the festive swing ceremony Sri Sri Radha-Krsna. Srila Maharaja and his followers first went to Krsna-Balarama Mandira, which is a few buildings down from Sri Rupa Sanatana Gaudiya Matha. He offered arati to the Deities there, swung Them on Their swing, and then kindly accepted Guru-puja.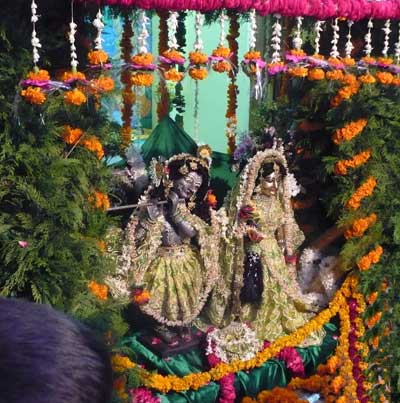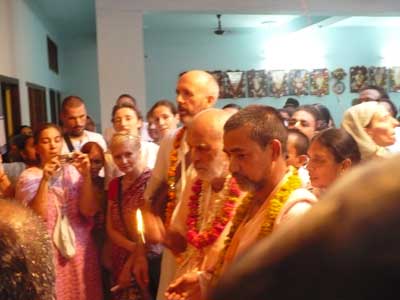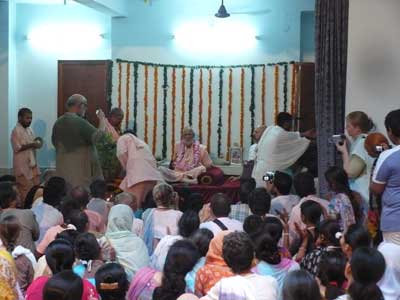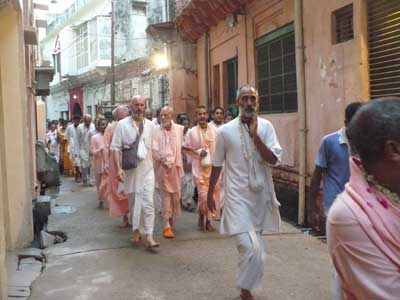 He then walked the short distance to Sri Rupa Sanatana Gaudiya Matha, where he again offered arati to Sri Sri Radha-Vinoda-vihariji, and again swung them on Their swing.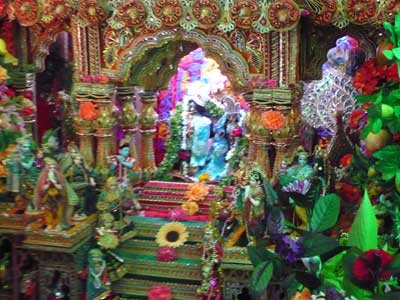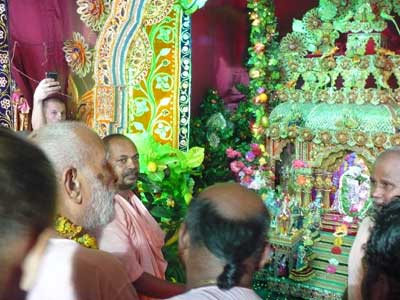 Swinging the Deities
After this he spoke for a few minutes in Hindi about this auspicious swing festival, which, for the benefit of those western devotees with headphones and also for this harikatha tour report, was simultaneously translated by Vrajasundari dasi. The following is an edited transcription of her translation.
"Everywhere in Vraja Mandala, Sri Sri Radha and Krsna are swinging on the Jhulan (swing).
"It is said in Srimad-Bhagavatam that Krsna goes with thousands upon thousands of cowherd boyfriends and cows to the forests in Vrndavana for cow-herding pastimes.
"It is the rainy season. All vegetation is beautifully green and blossoming everywhere. Yamuna, Manasi Ganga, Pavana Sarovara and all the other rivers and ponds are full with water. The cuckoos are singing and the peacocks begin dancing in the rain. Hearing the sounds of the peacock, Krsna plays His flute. The peacock is very pleased and offers one feather to Krsna, which Krsna picks up and puts on His crown.
"Krsna says, 'Oh Baladeva, I offer obeisances to You. The rainy season is here, and the trees are full with fruits and flowers. The peacock is seeing You and dancing, and he is so pleased. The deer are also very pleased, dancing and feeling very grateful to You, and the trees are bowing down and offering You respects.' Krsna does not say, 'All this is happening because of Me.'
"The trees are very fortunate. They give everything they possess for others' benefit. Everything they possess is used for humans or animals, not for themselves. You can cut the tree and use the wood for furniture or to burn. They may dry up completely, but they won't ask for water. One's life should be like that of a tree - to give benefit to others. Regarding giving benefits, the benefit of the association of pure devotees is millions times better than any other. Also, if you give your mind to Krsna, even for one moment, this is the best benefit you can give to others. It is the topmost welfare you can do.
"Krsna is telling Baladeva Prabhu, 'Oh Baladeva, Vrndavana is welcoming you. This is the month of Sravana (the rainy season), when there are dark clouds and lightening in the sky.'
"The sakhis are telling Radharani, 'Oh Radha, just see those clouds coming; the rain may come at any time. Your beloved Krsna is waiting for You, so don't be in maan (a sulky mood). You don't know what is good for You. Give up Your stubbornness. Come and sit on the swing with Krsna.' Radharani gives up Her stubbornness, goes to the swing, and the sakhis sing very happily.
"One kind of swing seats Radha and Krsna next to each other, and another swing seats them across from each other. Radha and Krsna are now seated on this second type of swing. Krsna swings so hard that the swing goes up very high. When Krsna is down, Radha is up. Radha becomes afraid that She will fall down. Krsna says, 'Oh Radha, don't be afraid.' Then, due to fear of falling, Radha embraces Krsna.
"In this way we are observing Jhulana-yatra and remembering the sweet pastimes of Sri Sri Radha and Krsna.The Gosvamis glorify these sweet swing pastimes in Sri Ananda Vrndavana Campu, Sri Govinda-lilamrta, and Sri Krsna Bhavanamrta." *[See endnote 2]
After speaking at Sri Rupa Sanatana Gaudiya Matha, Srila Maharaja took the devotees to Sri Gopinatha Gaudiya Math, and then to Sri Gopinatha Bhavan, to swing the Deities there. After swinging the beautiful Deities of Sri Sri Radha-Vinoda-bihariji and Sri Sri Radha-Gopinatha and offering Them arati, he returned to his quarters at the Bhavan.
Next Morning
August 13th was the divine disappearance day of Srila Rupa Gosvami. At 6am Srila Maharaja took over 300 devotees to Sri Sri Radha-Damodara Mandira. He circumambulated the temple, offering obeisances and arati to the samadhis of the transcendental personalities Srila Jiva Gosvami, Srila Krsnadasa Kaviraja Gosvami, Srila Bhaktisiddhanta Sarasvati Thakura, and Srila Bhakti Kamal Madhusudana Maharaja before arriving at Srila Rupa Gosvami's samadhi.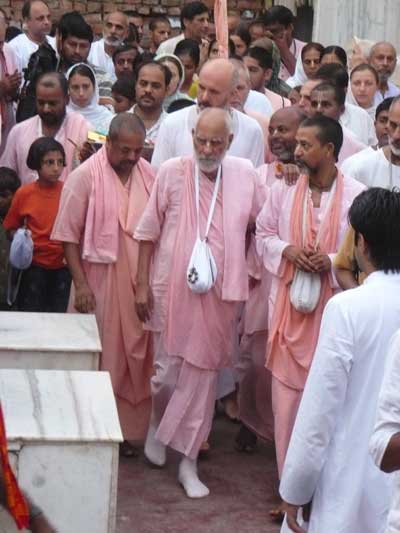 Circumambulating samadhis at Radha-Damodara Mandir
CLICK ON THE PICTURE ABOVE TO VIEW A CLIP OF THE MOVIE AT SRI RADHA-DAMODARA.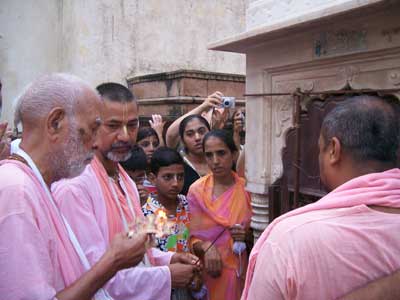 Offering arati to Srila Bhaktisiddhanta Sarasvati Thakura at his samadhi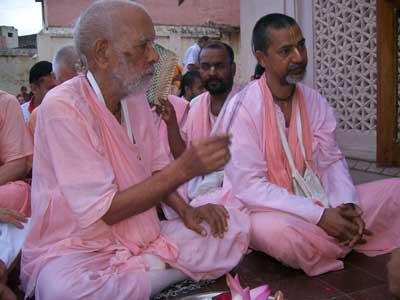 Offering arati to Srila Rupa Gosvami
Srila Maharaja spoke about the glories of Srila Rupa Gosvami in front of his samadhi, and his discourse was translated by Sriman Visnu dasa Adhikari. The following is a brief excerpt of the translation:
"Today is the disappearance day of Srila Rupa Gosvami, whose contribution to the world is unparalleled. He is Rupa Manjari in Krsna's pastimes. As maidservant of Srimati Radhika, Rupa Manjari performs services to the Divine Couple. Among all Srimati Radhika's maidservants, she (Rupa Manjari) is the supreme.
"As Rupa Gosvami, he prays continuously to enter all those places of Sri Sri Radha and Krsna's pastimes, even where Lalita and Visakha cannot enter. As an associate of Sri Caitanya Mahaprabhu, he taught us how to attain the mood of Sri Rupa Manjari. As Rupa Manjari, she did not tell us how to attain her mood, but as Rupa Gosvami he did so.
"He wrote:
"anarpita-carim carat karunayavatirnah kalau
samarpayitum unnatojjvala-rasam sva-bhakti-sriyam
harih purata-sundara-dyuti-kadamba sandipitah
sada hrdaya-kandare sphuratu vah saci-nandanah
["May that Lord, who is known as the son of Srimati Sacidevi, be transcendentally situated in the innermost chambers of your heart. Resplendent with the radiance of molten gold, He has appeared in the age of Kali by His causeless mercy to bestow what has not been given in a very long time - manjari-bhava, the service of Srimati Radhika as Her confidential maidservant." (Sri Caitanya-caritamrta, Adi-lila 1.4)]
"That same Krsna has appeared in the form of Sri Caitanya Mahaprabhu, taking the mood and bodily hue of Srimati Radhika, and has come here to spread unnatojjvala-rasa parakiya-bhava, service to Srimati Radhika and Sri Krsna as a maidservant of Radhika."
After his discourse and circumambulation, Srila Maharaja sat down in front of Srila Prabhupada Bhaktivedanta Swami Maharaja's room next to the altar of Sri Sri Radha-Damodara. There, he shared some of his personal remembrances, as well as his exchanges with Srila Prabhupada at that very place (translated by Visnu dasa):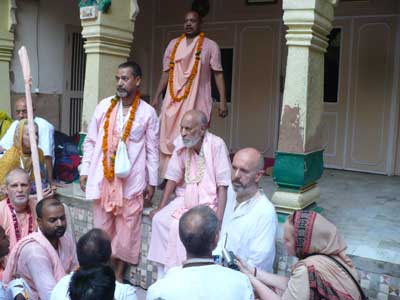 "Srila Bhaktivedanta Swami Maharaja appeared in Calcutta and took sannyasa in Mathura. Before taking sannyasa, he was called Abhaya Caranaravinda, and after taking sannyasa his name became Sri Bhaktivedanta Swami Maharaja. He stayed at our Matha in Mathura, and after taking sannyasa he went all over the world to preach. We went with him to Jhansi to preach, and he established a preaching center there. It was not very successful, though, because Krsna had a greater plan for him. Therefore, along with the Deity of Sri Gauracandra, he returned to Mathura and established the same Deity there.
"This is the place where he sat and did his translation work, and where he planned his world preaching. He used to stay in this room, and that other room was the kitchen. He had no possessions, but was always very blissful. I would spread my chadar on the floor, and we would both sit on it and discuss Bhagavat-katha and the Vaisnava philosophy.
"He would roll the capattis, I would cook them on the fire, and after applying the ghee, he would offer them to Radha-Damodara. By the mercy of Radha-Damodara, Srila Bhaktisiddhanta Sarasvati Thakura, and my Guru Maharaja, Srila Bhakti Prajnana Kesava Gosvami Maharaja, he went abroad and very quickly spread the movement of Krsna consciousness throughout the world - on the mountains, on islands in the middle of the ocean, and everywhere else.
"Today, sitting here, we are remembering his glorious pastimes, and we are praying at his lotus feet that he will bless all of us to be able to spread suddha-bhakti (pure devotional service) all over the world."

That Night and the Next Two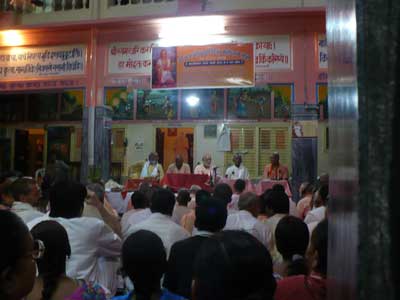 For three nights (August 13-15th), on the invitation of Srila Maharaja and the organizing devotees of Sri Rupa-Sanatana Gaudiya Math, various well-known Sanskrit scholars of Vrndavana came to Sri Rupa Sanatana Gaudiya Matha to attend a conference about Srila Rupa Gosvami. Several speakers gave discourses each night, and Srila Maharaja spoke extensively on the final night.
The Following Morning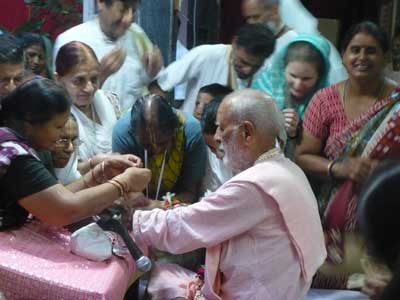 Ladies putting Rakis on Srila Maharaja's arm, an expression that means, "Gurudeva will always protect me." In India, according to the Vedic Culture, all sisters express this to their brother on that day. Originally and eternally, Baladeva is the protector of all.
August 16th was the appearance day of Sri Baladeva Prabhu. Srila Maharaja spoke about Balarama Prabhu at Sri Rupa Sanatana Gaudiya Matha that morning. He discussed the Lord's beautiful, sweet pastimes in Vrndavana and Dvaraka, and he also explained the established truths of Sri Baladeva Prabhu with regards to His service of creating the worlds and the living entities.
After his discourse, Srila Maharaja left for his Sri Giriraja Gaudiya Matha in Govardhana, where resided until Sri Krsna Janmastami (Lord Krsna's divine Birthday).
[Endnote 1: Gopinatha Bhavan was designed and built on Srila Narayana Gosvami Maharaja's inspiration, by his disciple Sriman Gopinatha prabhu from Holland. Srila Maharaja had told Gopinatha prabhu in 1997 that he would like his Western disciples to have a home in Vrndavana.
After searching for property with the help of other devotees, Gopinatha prabhu found this current location. Srila Narayana Maharaja approved the location and made a comment that he had actually wanted that particular land, but was not able to purchase it due to legal complications. Gopinatha prabhu offered to buy the property under the name of his personal Trust. This was accepted by Srila Maharaja and his instruction was to buy and look after it. In this way the building began in 1999, and a unique service was done.
Srila Maharaja instructed and encouraged Gopinatha at every stage of the development. He requested Gopinatha to also build him a home there. He said, "Not a palace; a home." Now, by Srila Maharaja's grace, this large, beautiful, Rajastani style building is a spiritual community and also one of Srila Maharaja's important international temples, with gorgeous Deities of Sri Sri Radha-Gopinatha and Sri Caitanya Mahaprabhu. Srila Maharaja had sent the Deities here, and a few months later, on the first day of Kartika 2007, he personally installed them with a grand festival.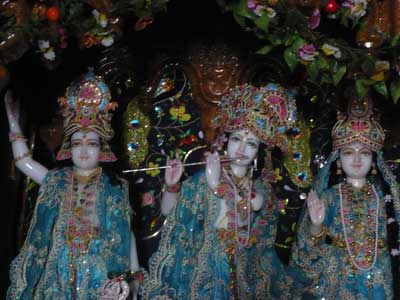 Gopinatha Bhavan is Srila Narayana Maharaja's official address for his Bhakti Trust International (which has been established by Srila Maharaja to help protect his properties, copyrights, and assets, as well as his mission and his followers). It has hosted part of the annual Sri Vraja Mandala parikramas during the month of Kartika, (this year, October 15-November 14) for the past six years. It also hosts many other cultural programs throughout the year, and it is the home of much of Srila Maharaja book-publication activities.]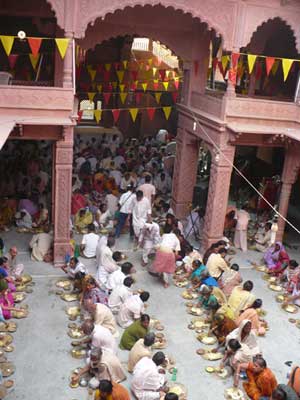 [*Endnote 2 (from Sri Krsna-Bhavanamrta):
Then the ocean of playful sports, Sri Krsna, personally began to push the swing faster, just for fun, making it go so high that Radhika's back touched the leaves on the branches of the Kadamba-tree. She became afraid that She would fall, and with Her sakhis She said, "Oh! Don't swing anymore! No more!" When Madhava heard this, He began to laugh and, instead of slowing down, He began to push the swing even faster! Sri Radhika's braid loosened, Her veil slipped off Her head, and Her ornaments were disheveled. Seeing that She could no longer break off the speed of the swing with Her feet because She needed them to keep Her sari from blowing up, which She failed to do, Krsna began to laugh, His eyes were satisfied. Again He increased the speed, so much so that Sri Radhika gave up Her seat and embraced Him around the neck. That is just what Krsna wanted.]
Editorial advisors: Pujyapad Madhava Maharaja, Sripad Brajanath dasa
Report written by: Vasanti dasi
Pictures courtesy of: Anjali, Govinda and Vasanti dasis
Editor: Syamarani dasi
Special thanks to Sriman Gopinatha dasa and Srimati Tungavidya devi dasi for the information they shared about the history of Gopinatha Bhavan