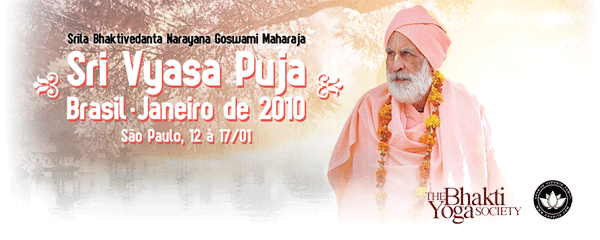 In 2010, January 12 to 17, we will be celebrating the most honorable occasion of our dearmost Srila Gurudeva Bhaktivedanta Narayana Gosvami Maharaja's Sri Vyasa-puja in Brazil!
Srila Gurudeva's Brazilian sanga would like to extend a warm invitation for everyone around the world to come and join in his Vyasa-puja festival in São Paulo.
Sri Vyasa-puja is the day we celebrate his birthday or appearance in this world. Vyasadeva is the compiler of the Vedas and all spiritual masters that follow him without deviation are also worshipped as Vyasadeva.
Being with Srila Gurudeva on his Vyasa-puja day is like being showered with the transcendental mercy of all the Guru Parampara through his loving heartily blessings and his sweet Hari-katha, so please come and join the nectar!
The website is available on three languages, Brazilian Portuguese, Spanish, and English.
www.vyasapuja2010.com - (Brazil)
www.vyasapuja2010.com/es - (Spanish)
www.vyasapuja2010.com/en - (English)
The Sri Vyasa Puja 2010 festival fee is $250 US or $150 US. The festival fee of $250 includes room reservation, bus transport to and from the airport, and 3 meals a day. The festival fee of $150 includes camping reservation, bus transport to and from airport, and 3 meals a day. Camping is in large stadium with toilet and shower facilities. For those paying with Latin America currency, your festival fee does not include bus transport, please pay your bus transport cost separately once you board the bus. Please note we cannot gaurantee a room reservation made closer to festival time.
To simplify the reservation and payment process for those from other continents, you may now make your reservations by sending a copy of your flight ticket to This email address is being protected from spambots. You need JavaScript enabled to view it. and paying the festival fee upon arrival.
For Venezuelan participants, you may also register by sending a copy of your flight ticket to This email address is being protected from spambots. You need JavaScript enabled to view it. and pay festival fees upon arrival. The fee is 280 reais which does not include bus transport. Bus transport can be paid once you board the bus.
For other South American countries, the festival fee is 280 reais and must be paid in advance.
Any questions please contact us:
- Email: This email address is being protected from spambots. You need JavaScript enabled to view it. or Skype: vyasa.puja.2010.
- Phone number: (+55) 11 3895-1286. (Taruni Dasi)