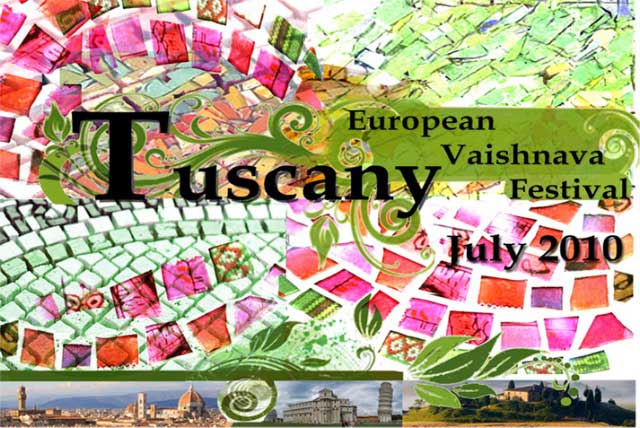 Radhe Radhe!
Dear Devotees,
Please accept our dandavats pranama, all glories to Sri Sri Guru and Gauranga!
We are happy to communicate that the European Vaisnava Festival 2010 will be held in Italy near Pisa, Tuscany from July 1st - 7th. Here is the festival website: www.europeanfestival.net where you will find all the details and information. Wishing to all the Vaisnava community a very happy new year, we warmly invite everybody to participate to the next ecstatic European festival 2010.
Vaisnavadasanudasa
Lila Purusottama dasa
Update 6/1/2010

Radhe Radhe!
All glories to Sri Sri Guru-Gauranga!
This message is especially for the devotees who will arrive by flight into Pisa airport. In order to book the buses for transportations, we need to have the time schedule of arrival and departure times for those devotees who are arriving on 30th of June and 1st July. After receiving all the details we can arrange the pick-up service and book the buses accordingly. Please send the messages to This email address is being protected from spambots. You need JavaScript enabled to view it. .

Thank you,
vaisnavadasanudasa
Lila Purusottama dasa and Krsna devi dd