Sri Vraja-mandala Parikrama 2017

"Immerse yourself in
Vraja-rasa"
All Glories To Sri Sri Guru & Gauranga
Dear Devotees,
For more than fifty years, om visnupada Sri Srimad Bhaktivedanta Narayana Gosvami Maharaja performed and conducted Sri Vraja-mandala parikrama. This month long festival affords the opportunity of visiting and hearing about all of Krsna's pastime places in Vraja, of regularly hearing the philosophical conclusions of Gaudiya Vaisnavism, of performing kirtana morning, noon and night, and of being in the company of sincere devotees from around the world. For these reasons, Vraja-mandala parikrama was given much emphasis by our beloved Srila Gurudeva.
This year's parikrama, 2017, will be inaugurated on October 5th, with the devotees observing sankalpa, or a vow to ensure the success of our parikrama, on the bank of Yamuna near Gopinatha Bhavan, Vrindavana. After this we will begin our Sri Vraja-mandala parikrama, a pilgrimage to all the incomparably beautiful places in Vraja. Our pilgrimage will be completed on November 4th.
Glories of Sri Vrndavana-dhama
'May I love Vrindavan, where at the base of a kadamba tree on the cool shore of the Yamuna a dark complexioned, amorous, divine youth dressed in yellow garments plays a flute as He glances at Radha's lotus face.
You may experience either happiness or distress. You may know fame or infamy. The lowest persons may insult you, or the saintly devotees praise you. You may know poverty or great wealth. You may obtain all valuable things, or you may not obtain anything. Whatever position your past pious or impious deeds may place you in, just make Vrndavana your life and soul.
Vrindavan is wonderful. The two sweet fair and dark splendours named Radha and Krsna are wonderful. Pure love for Their lotus feet is wonderful. He who has faith in Them and rises to the spiritual world is wonderful. The rare soul who understands these truths is wonderful.
O friend, by great good-fortune you have attained this body where you have heard Vrindavan's wonderful glories and learned that everything in this world is like a dream. Don't, don't, don't put any faith in the mind and body. Run to Vrindavan!'
(Sri Vrindavan mahimamrita, Sataka 1, sloka 27,30, 57 and 80)
Parikrama Festivals
On certain days throughout Kartika month, we will observe the divine appearance and disappearance days of our acaryas. These days will be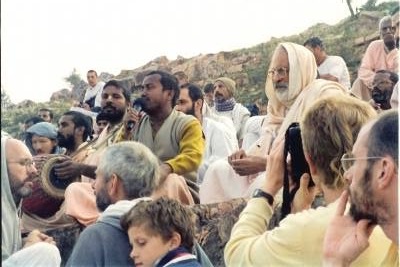 celebrated with kirtana and hari-katha, given in both Hindi and English, and delicious maha-prasadam will be served.
On Friday October 20th we will celebrate Govardhana puja (worship of Govardhana Hill) and go-puja (worship of our mother cow). Srila Gurudeva would always offer Giriraja Govardhana an abundance of delicious preparations for Annakuta Maha Mahotsava, in an endeavor to please Sri Giriraja, and under his continued guidance, we will continue this practice.
If you would like to bring your own ingredients to prepare an offering for Giriraja Govardhana, you are welcome to do so. If you are unsure about what you can offer, we suggest dried fruits, nuts, candies and other such items. Freshly cooked milk sweets may be easily purchased in Govardhana town. Donations are also very much welcome.
Parikrama Locations
From October 4 till the morning of October 16th all hari-katha, kirtanas and maha-prasadam will be held in Gopinatha Bhavan, Vrindavana, which is located on the parikrama marga (path) on the bank of Yamuna, next to Imli-tala, Seva Kunja. From October 17 till November 4 we will stay at Govardhana, at Sri Giridhari Gaudiya Matha, which is near the bus stand on the road to Radha-kunda.
Practicalities
Registration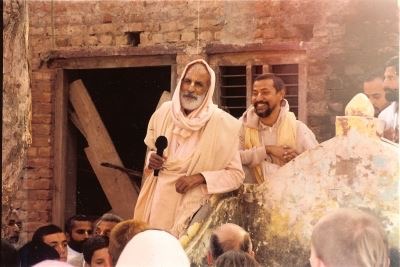 To register for this festival, upon arrival in Vrindavan or Govardhan, submit a completed Participation Form + a copy of the picture page of your passport, your visa page + a passport photograph and give your contribution (in rupees, dollars, or euros) to the devotees responsible at the registration table in the courtyard of Gopinath Bhavan or in front of the temple building at Sri Giridhari Gaudiya Math, where you will find devotees responsible for accommodating you in rooms inside or outside the temple complex.
The dharmasalas we are arranging for you in Vrindavan-dham will be available from October 4thonwards. If you arrive before this date, you will need to make your own arrangements for accommodation and prasadam. We trust that all of you will cooperate with the festival seva team in this regard.
Please inform us by e-mail about the details of your participation before September 15th, especially if you are coming in a group. In this way we can arrange suitable accommodation.
Taxi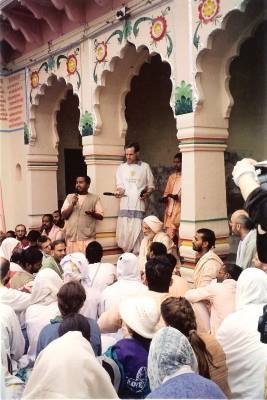 To arrange a taxi to pick you up from the airport or to take you to and from other places, you can you can contact Mani-mati dasi atThis email address is being protected from spambots. You need JavaScript enabled to view it., WhatsApp: +91-761.749.7080 or refer to our websitetaxi page.
Devotees are advised not to travel and arrive in Vrindavan during midnight hours; try to reach Vrindavan before 21:30 pm or after 4:30 am.
Cost
A minimum contribution of Indian Rs.12.000, US $190, or Euros 160 per person is requested in order to cover the most basic expenses of the month long festival. This payment covers prasadam, bus travel, as well as electricity, water, the sound system, a generator, the payment of various workers, cleaning costs and so forth. This contribution is therefore a service, not just a payment, and it is genuinely needed.
Accommodation
Room rental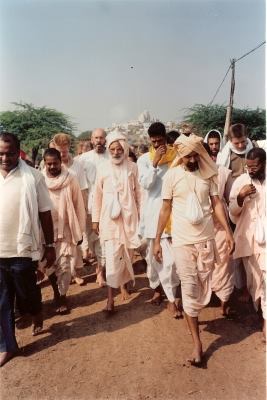 Vrindavan: Rooms are available for rent in nearby guesthouses and in the houses of the local residents. The average charge is about 400 rupees per room per day, depending on the facility offered. For more details contact Mani-mati dasi, This email address is being protected from spambots. You need JavaScript enabled to view it., WhatsApp: +91-761.749.7080
Govardhan: Near our Giridhari Gaudiya Math rooms are available at different rates. For booking (before Sept 1st) contact Ajit Krsna das, This email address is being protected from spambots. You need JavaScript enabled to view it., This email address is being protected from spambots. You need JavaScript enabled to view it., or Vrinda-devi dasi,This email address is being protected from spambots. You need JavaScript enabled to view it.; mobile: +91-955.772.7768; WhatsApp: +91-9560911958
Dharmasala: If you like to stay in a dharmasalas (simple lodgings for pilgrims, included in the festival fee), contact Vrinda-devi dasi. These dharmasalas are located near Gopinath Bhavan and Sri Giridhari Gaudiya Math, where there is facility to set up your sleeping mat and mosquito net in a hall or big room. At the Math at Govardhan there is also facility for tents.
For more details about traveling to the Dham, how to maintain good health during your visit, and other practicalities, please visit our website page,Traveling to India.
Kitchen Seva
Sriman Pradyumna Babaji Maharaja, Sripad Bhaktivedanta Sridhara Maharaja and Radhesh das.
Over-all management :
Sri Ramacandra dasa, e-mail: This email address is being protected from spambots. You need JavaScript enabled to view it., Phone: (+91-981.019.2540)
Sri Dhira Krsna dasa (+91-945.682.8001, +91-963.498.3070)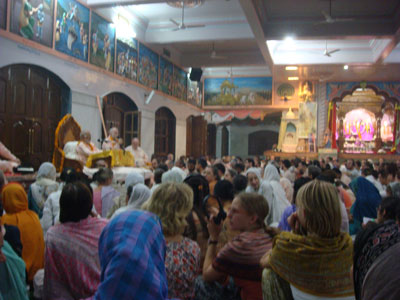 Sri Gopinatha Bhavan, Vrindavana, Tel: 96.3456.3739
Sri Rupa Sanatana Gaudiya Matha, Vrindavana, Tel: 0565-244.3270
Sri Giridhari Gaudiya Matha, Govardhan, Tel: 0565-281.5668

Oct. 03, Tue. Darsana of Sri Durvasa Rsi Gaudiya Asrama. Hari-katha and prasadam in Vrindavana at Gopinatha Bhavana till evening Oct. 16.
Oct. 04, Wed. Hari-katha and rest.
Oct. 05, Thu. (Vrindavana) Sri Sarad Purnima. Kartika-vrata begins. Sankalpa (vow) for the parikrama at Kesi-ghata in Vrindavana. Sri Srimad Bhakti Prajnana Kesava Gosvami Maharaja disappearance festival.
Oct. 06, Fri. Kaliya-daha, Srila Prabhodananda Sarasvati's bhajana-kutira and samadhi, Srila Sanatana Gosvami's bhajana-kutira and samadhi, Sri Madana-mohana Temple, Dana-gali.
Oct. 07, Sat. Seva-kunja, Sri Radha-Damodara Temple, Imlitala, Srngara-vata.
Oct. 08, Sun. BY BUS (from Vrindavana) to Bhatrol, Akrura-ghata, the place of the Yanja- patnis. Mana-sarovara, Vamsivat, Mathavana, Bhadravana, Bhandiravana.
Oct. 09, Mon. Nidhuvana, temples of Sri Radha-Ramana, Sri Radha-Gokulananda, Sri Radha-Gopinatha.
Oct. 10, Tue. BY BUS (from Vrindavana) to Madhuvana, Talavan, Kumudvana.
Oct. 11, Wed. BY BUS (from Vrindavana) to Dauji, Brahmanda-ghata, Mahavana-Gokula, Raval. (Return to Vrindavana).
Oct. 12, Thu. Dhira-samira, Gopesvara Mahadeva, Vamsi-vata, Brahma Kunda, Sri Govindadeva Temple.
Oct. 13, Fri. BY BUS (from Vrindavana) to Khelanvana, Rama-ghata, Viharavana, Cira- ghata (prasadam), Vatsavana, Garuda-Govinda. (Return to Vrindavana).
Oct. 14, Sat. Pujyapada Srila Bhakti Raksaka Sridhara Maharaja's appearance festival. Sri Jharumandal, Sri Radha-Syamasundara.
Oct. 15, Sun. Ekadasi. Sri Vrindavana parikrama.
Oct. 16, Mon. Baelvana darshan.
Oct. 17, Tue. Departure from Vrindavana. BY BUS to Govardhana via Bahulavana, Paitha and Candra-sarovara. Hari-katha and prasadam in Govardhana at Sri Giridhari Gaudiya Matha till Nov. 4.
Oct. 18, Wed. Govardhana parikrama. Dana-ghati, Anyora, Govinda kunda, Punchari, Surabhi-kunda (prasadam), Jatipura.
Oct. 19, Thu. Sri Hari-deva Temple, Brahma-kunda, Cakalesvara Mahadeva, Mukharavinda, Sri Sanatana Gosvami's bhajana-kutira, etc. Dipavali - festival of lights in the evening.
Oct. 20, Fri. Govardhana Puja, annakuta festival, worship of Govardhan Hill. Go Puja and Go Krda - worship and decorating cows.
Oct. 21, Sat. Bhaijaduja (Yamaraja's blessings on brothers and sisters). Radha-kunda parikrama, Uddhava-kunda, Kusuma-sarovara etc. Prasadam at Sri Giridhari Gaudiya Matha.
Oct. 22, Sun. Srila Bhaktivedanta Vamana Maharaja's and Srila Bhaktivedanta Trivikrama Maharaja's disappearance festival. Hari-katha and rest.
Oct. 23, Mon. Srila Bhaktivedanta Svami Maharaja's disappearance festival. Hari-katha.
Oct. 24, Tue. Srila Bhakti Srirupa Siddhanti Gosvami Maharaja's appearance festival. Hari-katha.
Oct. 25, Wed. BY BUS to Dig, Bhojana-thali (breakfast prasadam), Pichala-pahadi (slide-hill), Vyomasura's cave, Carana-pahadi, Vrinda-devi and Kamesvara Mahadeva, Vimala-kunda (lunch prasadam), Gulal-kunda, (Return to Govardhana.)
Oct. 26, Thu. Hari-katha and rest at Giridhari Gaudiya Matha, Govardhana.
Oct. 27, Fri. Killola-kunda, Gvala-pokhara (prasadam), Syama-talaiya, Ratna-vedi, Carana-cihna, Narada-kunda.
Oct. 28, Sat. Gopastami. BY BUS to Nandagrama via Ter-kadamba, Asisesvar Mahadeva, Choti Carana-pahadi, Pavana-sarovara, Nanda-bhavana, Lalita-kunda, Uddhava-kyari (prasadam), Nandakhirak (Nanda-baba's goshala), Sanket, Prema-sarovara, (Return to Govardhana.)
Oct. 29, Sun. Hari-katha and rest at Giridhari Gaudiya Matha, Govardhana.
Oct. 30, Mon. BY BUS to Varsana. Sankiri Khora, Cikasauli, Gahvaravana parikrama, Vilasa-gharha, Mana-garha, Dana-garha, Mor-kuti (breakfast prasadam), Sriji Temple, Varsana. Pili-pokhara, Uchagaon (prasadam), Sakhigiri-parvata, Suryakunda. (Return to Govardhana.)
Oct. 31, Tue. Ekadasi. Srila Gaura-kisora dasa Babaji Maharaja's disappearance. Bhisma- pancaka. Hari-katha and rest at Giridhari Gaudiya Matha, Govardhana. Diksha ceremony.
Nov. 1, Wed. BY BUS to Vrindavana. Yearly festival at Ananda-dhama with prasadam and nagara-sankirtana in the evening.
Nov. 2, Thu. BY BUS to Khadiravana, Javata, Baithana, Carana-pahadi, Kokilavana, (prasadam), Santanu kund, Satoha. (Return to Govardhana.)
Nov. 3, Fri. Srila Bhakti Pramoda Puri Gosvami Maharaja's disappearance festival.
Nov. 4, Sat. Vaisnava homa (honoring Vaisnavas).
End of Kartika-vrata and Urja-vrata.
End of Sri Vraja Mandala Parikrama 2017