Lanjaron, Spain
15th - 21st June 2008
---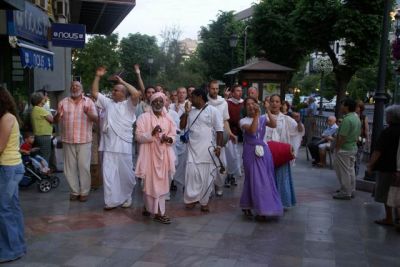 Sripad Vana Maharaja is a senior sannyasa disciple of Srila Bhaktivedanta Narayana Gosvami Maharaja. Known for his profound knowledge and realizations of the esoteric conclusions of our Gaudiya Vaisnava philosophy and tradition, he is also very experienced in presenting this to a western audience.
One and all are invited to hear his sweet Hari Katha in the beautiful area of the famous Alpujarras in the south of Spain. The festival will be held from the 15th of June until the 21st of June 2008 on a picturesque mountain farm orchard of olives, cherry, oranges and flower bearing trees where the rivers run pure enough to drink directly from the streams and healing springs. For those of you who enjoy simple living, high thinking, rustic camping and spiritual life this is the ideal place to be. There will be no festival fees charged for accommodation or prasadam (although donations are kindly accepted).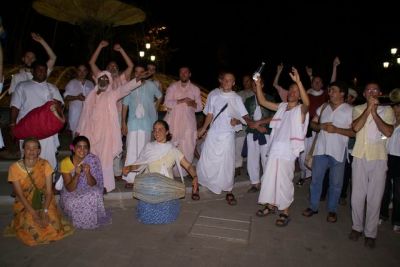 ACCOMODATIONS
Although very simple and rustic cortijos will be available it is recommended to bring your own tents. Many are choosing to sleep under the stars as the weather is more or less guaranteed to be nice and a sleeping bag is all you need. (Please note night and morning can be a little chilly although the days will be pleasantly warm). Covered outdoor loos and bucket showers will be the norm.
For those who prefer there are many affordable and nice hotels available in the tourist town of Lanjaron just within 2 miles from the festival site.
TRAVEL INFORMATION
Malaga has the closest international airport to Granada (1 1/2-hr. travel). Which is in turn a short distance to Lanjaron, the village below our mountain festival site. International flights on low budget airlines are available to Malaga from every major city in Europe. From the UK for example, Easyjet.com flies from many local cities to Malaga for as little as £70.00 pounds return. Also one can fly from Birmingham on Mytravel-lite, BMIbaby or Flybe etc. Check Internet sites for more information from your desired city of travel.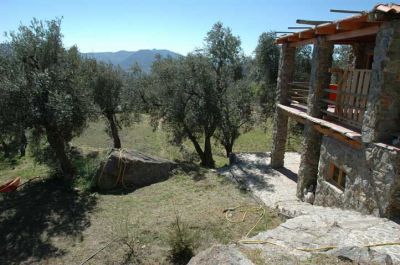 Ryanair.com flies from Germay, Italy and the UK to Granada and from Belgium, Germany and Ireland to Malaga.
FROM MALAGA AIRPORT
BY COACH
Perhaps the cheapest way to go but not necessarily the most convenient. Blue bus number 19 (Just outside the main exit door to the right leaving every half-hour towards Malaga Centro). Cost 1 euro. Get off at the Malaga Coach Station ( estacion de autobuses) which is a few stops BEFORE arriving at Malaga Centro. Ask the English speaking bus driver to alert you at the correct stop. Buses to Granada leave on the hour for about 12 euros. From Granada regular buses to Lanjaron are available for less than 4 euros. Call us from Lanjaron for a ride to the festival site. (Contact numbers listed below)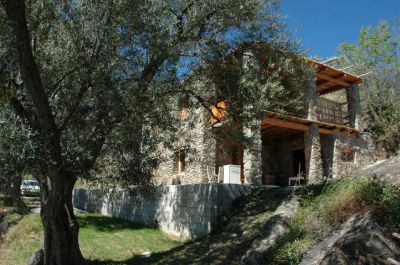 CAR RENTAL
Available from the airport for as little as 100-euros.per week Helle Holies or Crown Cars rentals are cheap and best. You can also book in advance from websites for a further discount. Many devotees are planning to share rental cars for greater convenience and freedom. Lets us know if you need help co-ordinating with others. All car rentals will provide free maps. Directions are simple either by the midway between Granada and Motril. (South of Granada and North of Motril). Call us from Lanjaron for guidance or someone to follow up to the festival.
PLEASE, WE NEED CONFIRMATION OF YOUR COMING TO THE FESTIVAL AS SOON AS POSSIBLE TO MAKE ALL THE NECESSARY ARRANGEMENTS. WE ARE LOOKING FORWARD TO SERVING AS MANY VAISNAVAS AS POSSIBLE!!!!! PLEASE NOTE: THERE IS A POSSIBILITY OF FLYING FROM GRANADA AIRPORT TO ITALY FOR SRILA GURUDEVA´S EUROPEAN VAISNAVA FESTIVAL GAURA PREMANANDE HARI HARI BOL!!!!!!!!!!!!!!!!!!!!!!!!
CONTACT INFORMATION:
Jiva Pavana prabhu .
Tel. +44(0)1536481769
Mobile +44(0)7980155521
This email address is being protected from spambots. You need JavaScript enabled to view it.
Vrindavanesvari didi
Tel. +34958200772
Mob. +345652442243
This email address is being protected from spambots. You need JavaScript enabled to view it.
Janardana das
+44 (0) 121 2442053
+44 7768355087
+34 650646350 (when in Spain call this number to be picked up from Lanjaron)
This email address is being protected from spambots. You need JavaScript enabled to view it.