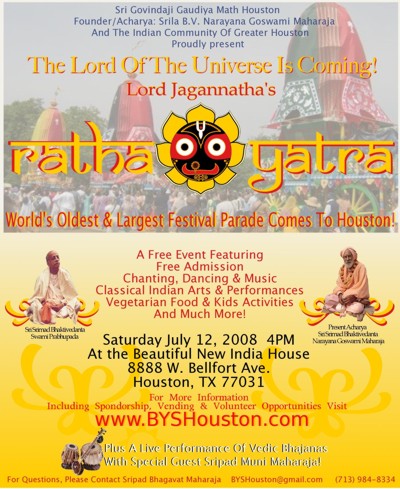 AN INVITATION
Dear Friends and Fellow Houstonians,
With great love and joy in our hearts, The Govindaji Gaudiya Matha and The Oriya Community of Houston proudly announce the arrival of Lord Jagannatha (The Lord of the Universe) in Houston. Shri Jagannatha Puri Dham is one of the four places of pilgrimage in Vedic Dharma. Puri Dham is especially dear to Gaudiya Vaishnavas since Sri Chaitanya Mahaprabhu spent 18 years there displaying ecstatic symptoms of Pure Love of Lord Shri Krishna. Lord Jagannatha is a unique manifestation of the Supreme Lord, famous as Patita Pavana, savior of the most fallen.
Lord Jagannatha is so merciful that just by seeing Him or pulling Him on the Ratha (Car) and hearing the chanting of his Holy Name every one's sins and even the repeated cycle of birth, death, disease, and old age can be relieved at once. This blessed event is one that Houstonians have been eagerly waiting for a long time.
The Ratha Yatra Committee is tirelessly preparing for the Ratha Yatra event scheduled on July 12, 2008 (4 PM) at the newly constructed India House grounds located at 8888 West Belfort Avenue, Houston, Texas. As He is The Lord of the Universe, it is only fitting that everyone in our Greater Houston Community participates in this ancient Festival of the chariots honoring the Lord manifesting here for the first time. All Glories are to Lord Jagannatha, Lord Balabhadra and Goddess Subhadra.
It is our pleasure to invite all Houstonians; especially the Indian Community of Greater Houston, with your friends and families to participate in this most auspicious event and receive special blessings by coming forward as a volunteer. Please come forward by volunteering your time & donations to help propagate the message of divine love of Lord Jagannatha to ONE and ALL. The Govindaji Gaudiya Matha and The Oriya Community of Houston have been spearheading the Jagannatha Ratha Yatra 2008 assisted by India House, Hindu Worship Society, Durgabari, and other organizations. To make this auspicious event a grand success, we pray for the support of the entire Indian community for this most sacred and unique historical event in Greater Houston.
May Lord Jagannatha bless One & All.
Thank You,
Yours Jagannatha-wise,
Organizing Committee
Shri Jagannatha Ratha Yatra
Houston 2008
For more information, please visit http://www.byshouston.com, or call:
Bhagavat Maharaja (713) 984-8334, Raghu Dass (281) 858-5092,
Vimla Aggarwal (281) 499-3347
---