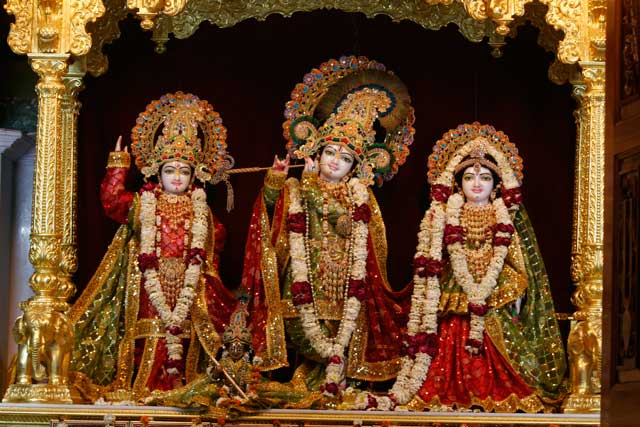 Programs
@
Sri Raman Vihari Gaudiya Math Janakpuri New Delhi
Sri Raman Vihari Gaudiya organizes various activities on that touches the hearts and lives of children, women, youth, corporate & families.
In Metro cities like Delhi, Mumbai, Chennai, Pune etc people are too busy in their material occupation, hectic and modern lifestyle due to which they are facing great degradation of character, culture and values.
Keeping this in view, Sri Raman Vihari Gaudiya Math organizes various programs regularly and especially on weekends so that people can spend at least 1 or 2 days in a week for their spiritual advancement.
The detail of various programs is as below:
Life Management Program for You ( LMPY)
Gaudiya Youth Forum ( GYF)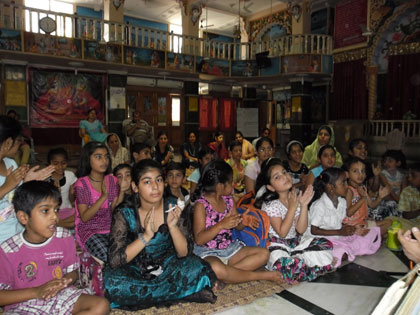 Little Gaudiyas [LG]
Children have a profound desire to understand their place in this universe. It is this inner wonder and curiosity that creates meaning for them.
For providing children a platform to explore the world around them and to express them so as to develop a strong sense of identity and personal values, this small Spiritual Program is started for Children.
Activities:
Group Chanting of Divine names of Lord
Coloring /arts & crafts
Learning spiritualism thru games
Sanskrit Learning : Bhagavad Gita Sholkas
Skit Participation for special occasions
Learning Kirtan with mrdanga & kartal
Narrating spiritual stories thru multimedia
Distribution of gifts to encourage kids
Teaching moral & spiritual etiquettes.
Developing a strong faith towards God in kids thus making them more confident to face difficult situations of their life
Counseling parents for how they can help their kids for spiritual development.
Timings:- Every Sunday 10 Am -12Pm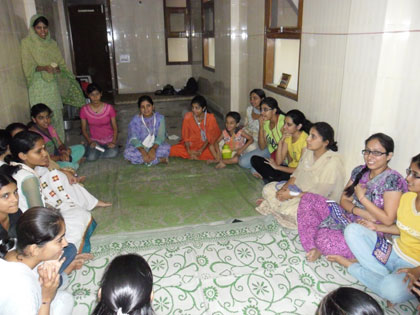 Gaudiya Girls Group [3G]
In today's fast paced world, few women have time to really contemplate the spiritual side of life. Gaudiya Girls Group has emerged to give the opportunity to all girls to connect with others, discuss and explore the important aspect of a balanced life i.e. "SPIRITUALITY".
Objectives of 3G
To know the purpose of our life.
To learn Vaisnavas philosophy & etiquettes under the guidance of senior devotees by hearing transcendental knowledge & Hari-Kathas from them
Develop values like Overcoming Greed, Anger, Depression, Fear, and Inferiority complex by chanting Hare Krishna Mahamantra.
Cultivating habits of seva by performing devotional activities like offering Puja, maintaining deity, making garland, pure habits etc
Cultural activities like singing, playing instruments, cooking, put rangoli etc.
Live a life of chastity, character, modesty, simplicity and similar values
Dealing with guests, elders, family members and others
To attain tranquility by chanting the divine names of Lord.
Timings: - Saturday & Sunday 4:30 Pm - 5:30Pm
IGVT Education Center
This is small education program initiated by Sri Raman Vihari Gaudiya Math which provides a platform for beginners who are new to the Vaisnavas cult. People born in metro cities are usually unaware of basic of Vaisnava etiquettes, so without proper training they find difficult to advance in their devotional life.
Attractions:
Proper Notes are provided for each class
Systematic Sessions on various topics
Evaluation of devotees at the end of session
Training for preaching & organizing house programs.
Timings: Every Sunday 2.00-3.00 PM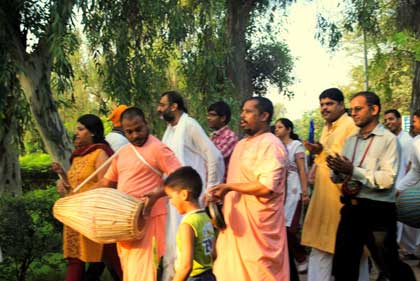 Nagar Sankirtana
Srimad Bhagvatam states:
"The congregational chanting of holy names destroys all sinful reactions" SB 12.13.23
Sri Raman Vihari Gaudiya Math organizes "Nagar Sankirtana" i.e. Congregational Chanting every Sunday. Lots of people participate & Sankirtana party goes to some devotees' house who arranges prasadam for all devotees. In this they all sing, dance & enjoy in bliss.
Family Satsang Program
Sri Raman Vihari Gaudiya Math organizes weekly Satsang program for families. Families with members of all ages gather for satsang & participate in chanting & kirtan. Its objective is to develop peaceful & godly environment in every house.
Activities:
Kirtan
Hari-katha
Arati
Prasadam
Timings: - Summer: 7:30PM – 9:30PM, Winters: Sunday 12:30PM -2:30PM
(click on above title)