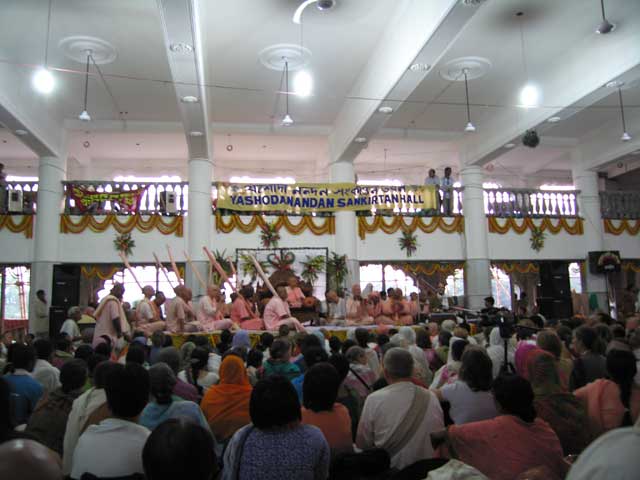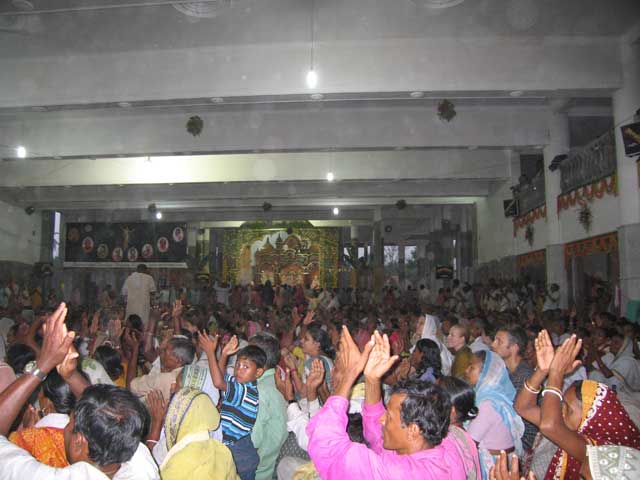 Śrī Śrīmad Bhaktivedānta Nārāyaṇa Mahārāja established this magnificent temple at Kolerdaṅga, to propagate pure bhakti to all persons, from every corner of the planet, according to the desire of his guruvarga. The presiding deities here are Śrī Rādhā-vinoda Biharajī, Śrī Lakṣmī- Varāha and nitya-līlā-praviṣṭa oṁ viṣṇupāda Bhakti Prajñāna Keśava Gosvāmī Mahārāja.
The boundless mercy of Śrīman Mahāprabhu is the only hope for the jīvas of Kali-yuga. In Śrī Caitanya-candrāmṛta (125) Śrī Prabodhānanda Sarasvatī has written:
kālaḥ kalir balina indriya-vairi-vargāḥ
śrī bhakti-mārga iha kaṅṭaka-koṭi-ruddhaḥ
hā hā kva yāmi vikalaḥ kim ahaṁ karomi
caitanyacandra yadi nādya kṛpāṁ karoṣi
Now it is the age of Kali. My enemies, the senses, are very strong. The beautiful path of bhakti is spiked with countless thorns (like karma, jñāna and unrestricted sense enjoyment). My spirit is weak. My senses are powerful and agitated. O what shall I do? Where shall I go? O Lord Caitanya-candra, if You do not grant me Your mercy, what shall I do to save myself?