Sri Srimad Bhaktivedanta Narayana Gosvami Maharaja
May 6, 2000 - Hawaii
Today is a very auspicious day – Aksaya-trtiya. We will observe it tomorrow, however, because today there are three tithis (lunar time period) touching one day. Today the door of Bhadri-narayana will be open, and therefore a festival will be observed in Puri with Lord Jagannatha. Candana-yatra will also begin on this auspicious day.
Especially, anyone who will begin anything on this day, that endeavor will be successful. Aksaya means 'not perishable.' If you are sincerely taking diksa initiation today, your bhakti will be very successful.
Today, on Aksaya-trtiya the universe was created by Brahma. The universe took its shape today, so today is the first day of Creation. Also, Brahma created barley, which is like a medicine, and which is the root of all the corn and other foodstuffs. Barley is given today to Krsna.
Today is the birthday of our Gaudiya Vedanta Society. On this day Sri Abhaya Carana Bhaktivedanta Svami Maharaja became one of the founder members of Gaudiya Vedanta Samiti.
Devotee: Not many devotees realize this.
Brajanath dasa: The Gaudiya Vedanta Samiti was founded by Srila Bhakti Prajnana Kesava Gosvami Maharaja in 1941. Srila Prabhupada was present there.
Srila Narayana Gosvami Maharaja: He was one of the founding members. Krsna Consciousness and Gaudiya Vedanta Samiti are the same thing. This Krsna Consciousness movement is actually coming from Brahma, Narada, Vyasa, and Sukadeva Gosvami, who are all members of ISKCON. To serve Krsna is ISKCON. Srila Bhaktivedanta Svami Maharaja is not the establisher of ISKCON, but the re-organizer. He himself has said this. *(See endnote)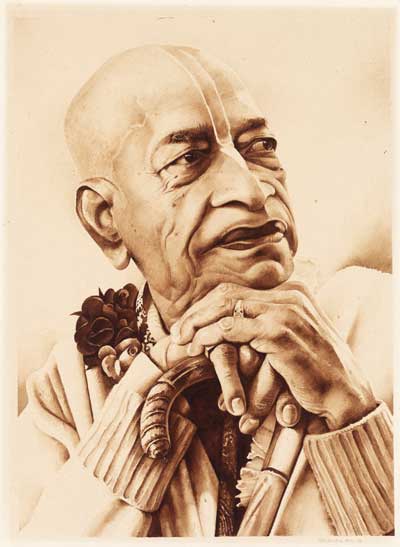 ISKCON is transcendental. All Those who serve Krsna, and all those who wish to serve Krsna, are ISKCON. So, we are all in ISKCON.
[Endnote: "Thus Brahma was initiated by the Krsna mantra, by Lord Krsna Himself, and thus he became a Vaisnava, or a devotee of the Lord, before he was able to construct the huge universe. It is stated in the Brahma-samhita that Lord Brahma was initiated into the eighteen-letter Krsna mantra, which is generally accepted by all the devotees of Lord Krsna. We follow the same principle because we belong to the Brahma sampradaya, directly in the disciplic chain from Brahma to Narada, from Narada to Vyasa, from Vyasa to Madhva Muni, from Madhva Muni to Madhavendra Puri, from Madhavendra Puri to Isvara Puri, from Isvara Puri to Lord Caitanya and gradually to His Divine Grace Bhaktisiddhanta Sarasvati, our divine master." (Srimad-Bhagavatam, 2.9.6 Purport by Srila Bhaktivedanta Svami Maharaja)
In another verse, Rupa Gosvami says, krsna-bhakti-rasa-bhavita matih kriyatam yadi kuto 'pi labhyate. (I have translated the words Krsna consciousness from krsna-bhakti-rasa-bhavita.) So here Rupa Gosvami advises, "If Krsna consciousness is available, please purchase it immediately. Don't delay. It is a very nice thing." (Journey of Self Discovey, by Srila Bhaktivedanta Svami Maharaja)]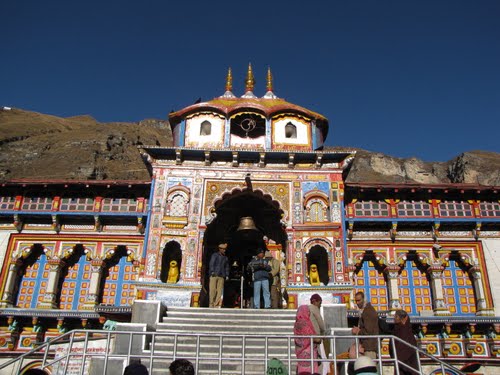 Temple of Sri Bhadri-narayana