Books in PDF format

Books for E-Readers

Other Titles
6250 downloads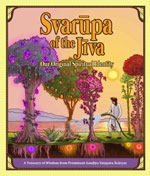 For those who truly desire to understand the great mystery of the spirit soul, the conceptions revealed in this book will be the cause of excitement and increasing wonder.
Svarūpa of the Jīva is a response to all related enquiries. It is a documentation of the verses, commentaries, and excerpts of the books, lectures, and discussions of our disciplic succession of self-realized gurus – as well as the words of the ancient Vedic literatures that form the basis of the gurus' teachings – regarding the svarūpa [perfect spiritual form and nature] of the jīva [the eternal living entity within each body] that is inherent in his constitution.
This book also reveals the super-most process by which that exquisite spiritual form, now in seed-like potential, can manifest in its full glory.