Special On-line Edition for the Appearance Day of
Sri Srimad Bhaktivedanta Narayana Gosvami Maharaja
---

śrī śrī guru gaurāṅga jayataḥ!

Year-1 Special On-line Edition
Posted: 26 January 2009

---
Dedicated to
nitya-līlā praviṣṭa oṁ viṣṇupāda
Śrī Śrīmad Bhakti Prajñāna Keśava Gosvāmī Mahārāja

Inspired by and under the guidance of
Śrī Śrīmad Bhaktivedānta Nārāyaṇa Gosvāmī Mahārāja
---
The True Meaning of Sri Vyasa-puja
by Sri Srimad Bhaktivedanta Narayana Gosvami Maharaja
Spoken on the eve of Sri Guru-purnima
and the Disappearance day of Srila Sanatana Gosvami
in Sri Kesavaji Gaudiya Matha, Mathura, 16 July 2008
Translated into English for the first time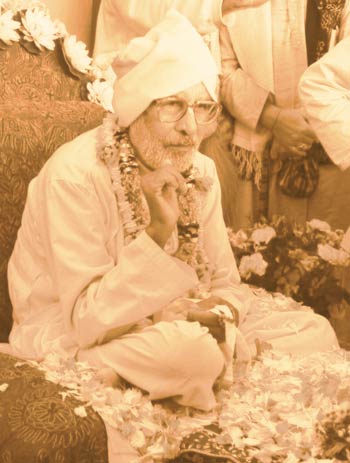 Srila Vyasadeva, who is the incarnation of Lord Narayana, was born on the full moon day of the month of Asadha. In India, everyone worships their spiritual master on this day, which is celebrated with great honour and reverence as Sri Vyasa-puja, or Sri Guru-puja. It is essential, however, that we understand the true significance of Sri Vyasa-puja. Merely placing a garland on the neck of Sri Guru or offering at his feet a few flowers and fruits, some money, sweets, or cloth does not mean that real worship of the guru has been performed. The real Vyasa-puja is to surrender oneself completely at the lotus feet of Srila Gurudeva and to fulfil his desires.
This means that one should completely offer oneís independence at the lotus feet of Sri Guru in a mood of surrender: ìO Srila Gurudeva, I am offering everything that belongs to me at your lotus feet.î At the time of His initiation from Sri Isvarapuri-pada, Sri Caitanya Mahaprabhu said:
ei ami deha samarpilama tomare
krsnapadapadmera amrtarasa pana
amare karao tumi ñ ei cahi dana
Sri Caitanya-bhagavata (Adi-khanda 17.54ñ55)
O Gurudeva, I have surrendered My body and everything that is Mine at your lotus feet. I shall follow your every instruction. My only wish is to receive your merciful benediction by which you kindly make Me drink the transcendental nectar of Sri Krsnaís lotus feet.
If a person can selflessly surrender in this way, it does not matter whether or not he worships his gurudeva with flowers and so forth, for such worship is just a symbolic act meant to instruct the common people. Real guru-puja cannot be performed until the mood of selfless surrender at the lotus feet of Sri Guru appears in oneís heart. Srila Sanatana Gosvami relinquished not only his home but also his post as prime minister, his abundant opulence, his servants and so on, specifically so he could fulfil the desire of Sri Caitanya Mahaprabhu. He approached Sriman Mahaprabhu empty-handed, and feeling, ìNow I am Yours,î he completely surrendered himself to Him. This alone is real Vyasa-puja.
What is truly the most desired goal in the world? It is service unto the lotus feet of the divine couple, Sri Sri Radha-Krsna. Serving their lotus feet is undoubtedly our only purpose in life. Although it is extremely rare to achieve this, if one secures the shelter of the lotus feet of a genuine guru, this otherwise almost unattainable goal can be attained. In other words, if we surrender unto the lotus feet of the bona fide guru and practise serving the divine couple according to his teachings, instructions etc, we can attain the transcendental loving service of Sri Sri Radha-Krsna, very soon.
Although Sri Krsna Himself is the origin of bhakti, Sri Guru is His incarnation, or manifestation. Therefore, unless a person sincerely and selflessly serves Sri Guru he will not attain bhakti even if he makes millions of endeavours and even if Bhagavan Himself bestows mercy upon him. It should be understood that Sri Guru is non-different from Bhagavan:
yasya deve para bhaktir yatha deve tatha gurau
tasyaite kathita hy arthah prakasante mahatmanah
Svetasvatara Upanisad (6.23)
The true import of the scriptures (srutis) is revealed in the hearts of those great souls who have equally the same unflinching bhakti for their guru and the Supreme Lord.
The people of Bharatvarsa (India) are indebted to Srila Vyasadeva. Srila Vyasadeva first divided the Vedas and thereafter compiled their essence in Vedanta-sutra. After that he manifested the Puranas and the Mahabharata, yet his heart still remained dissatisfied. Later, in Sri Bhagavat Purana (Srimad-Bhagavatam), by the mercy of Sri Narada Muni, he described the pastimes of Sri Krsna and narrated them to Sri Sukadeva Gosvami. Srila Sukadeva Gosvamiís worship of Srila Vyasadeva, his father and spiritual master, was the first Vyasa-puja. Sri Sukadeva Gosvami was later worshipped by Srila Suta Gosvami. This was the second Vyasa-puja. In this way, the tradition of Vyasa-puja began. Therefore, Vyasa-puja, or guru-puja, has been practised since ancient times. Worship of the guru is performed even before the worship, or puja, of Sri Krsna.
Our great fortune is that we are coming in that very parampara, or succession of bona fide gurus, that is comprised of Sri Caitanya Mahaprabhu Himself, Sri Svarupa Damodara, Sri Ramananda Raya, Srila Rupa Gosvami, Srila Sanatana Gosvami, Srila Krsnadasa Kaviraja Gosvami, Srila Narottama Thakura, Srila Visvanatha Cakravarti Thakura, Srila Jagannatha Dasa Babaji Maharaja, Srila Bhaktivinoda Thakura, Srila Prabhupada and my gurudeva (Srila Bhakti Prajnana Kesava Gosvami Maharaja) and his god-brothers. Only in this succession of bona fide gurus is the conception of service to Sri Sri Radha Krsna, especially as a maidservant of Srimati Radhika, acknowledged as the topmost goal.
The son of Saci-devi, Gaurahari Sri Caitanya Mahaprabhu, who is none other than Sri Krsna but with the mood and complexion of Sri Radha, appeared in this world to bestow this most auspicious gift. Sriman Mahaprabhu Himself did not preach this doctrine but inspired it in the heart of Srila Rupa Gosvami and manifested it in this world through him. Sri Caitanya Mahaprabhuís gift ñ service to the divine couple, Sri Sri Radha-Krsna, in pursuance of the moods of Sri Rupa Manjari ñ is solely what He came to give. Although we are so fortunate to be in this parampara, to truly imbibe the concepts of Srila Rupa Gosvami requires sincere and honest effort.
Many people who come forward to perform sadhana-bhajana, to lead a life of devotional service, become trapped by the illusory potency of the Lord and become attached to maya in her feature as a woman. In this way they entrench their life in misery. We should be ever alert to this. The Gaudiya Matha is not an establishment intended to facilitate this. What is the purpose of the Gaudiya Matha? It is to sincerely and purely follow the teachings of Srila Rupa Gosvami. The Gaudiya Mathaís very existence is based on one objective alone: to follow the instructions of Sriman Mahaprabhu and Sri Rupa Gosvami by becoming acquainted with their teachings and performing bhajana accordingly.
One who leads such a life by remaining under the shelter of a genuine guru actually performs Vyasa-puja. Such conduct alone signifies fitting worship of Srila Rupa Gosvami and our entire guru-parampara. If one wishes to perform sadhana-bhajana by following such rules and regulations then one may stay in the matha, but there is no place in the matha for those nurturing worldly (asat) propensities.
You all should clearly understand that the matha is not a place for arranging and celebrating marriages. If one wants to practise bhajana in its purest form, then one should reside in the matha and serve Sri Guru and the Vaisnavas, even though one may receive chastisement from them. Sri Naradaís curse upon Nalakuvara and Manigriva proved to be extremely beneficial for them. In the same manner, the chastisement of Sri Guru and Vaisnavas is also highly auspicious. If a person tolerates their chastisement and continues to reside in the matha, then he alone can truly understand their mercy.
This Asadhi-purnima also celebrates the disappearance day of Srila Sanatana Gosvami. For us, Srila Sanatana Gosvami is like an incarnation of Sri Vyasadeva because he has written a commentary on Srimad-Bhagavatam and has manifested the great gem-like scripture, Sri Brhad-bhagavatamrta. Sri Brhad-bhagavatamrta alone is the main foundation of all the scriptures written by Srila Rupa Gosvami, Srila Raghunatha Dasa Gosvami and so on. In other words, all the other books of our Gosvamis manifested from this one book alone.
That is why Srila Sanatana Gosvami is even the guru of Srila Rupa Gosvami. On the other hand, Srila Sanatana Gosvami has accepted Srila Rupa Gosvami as his guru. Such are the considerations of guru-tattva. If someone feels proud, thinking, ìI have become guru,î then he is not a guru at all. A guru never makes disciples; rather, he transforms others into guru*. One who is a real guru does not even try to become a guru.
_____________________
*The Sanskrit word guru (spiritual master) literally conveys ìweighty with significanceî.
bharata-bhumite haila manusya-janma yara
janma sarthaka karií kara para-upakara
Sri Caitanya-caritamrta (Adi-lila 9.41)
One who has taken his birth as a human being in the holy land of India (Bharata-varsa) should make his life successful and work for the benefit of all other people. In other words, he should himself perform the sadhana of suddha-bhakti by accepting the shelter of the lotus feet of Sri Guru and inspire others to do the same. This alone is the highest form of benevolence.
All of the sadhakas, or practitioners of bhakti, coming in the line of Sri Caitanya Mahaprabhu should first become acquainted with the teachings of Srila Rupa Gosvami and the principles of guru-parampara, and then they should preach to others. It is necessary to both practise and preach. And for this end, the effort of all brahmacaris and sannyasis will need to be at least a thousand times greater than the effort a householder makes to maintain his home. Throughout the day, not even a single moment can be spent making any other endeavour. One will have to engage his mind full time in the service of Sri Krsna.
It is necessary that one understand Srila Rupa Gosvamiís special contribution to our sampradaya and why Sri Caitanya Mahaprabhu appeared in this world. In essence, it was to specify our lifeís highest and most prominent goal: to become a particle of dust at the lotus feet of Srila Rupa Gosvami, to become a maidservant of Srimati Radhika under the guidance of Srila Rupa Manjari. This is the sole cherished aspiration for all our previous guruvarga.
May you all be blessed with this conception in your heart and may your life thus become successful. All those who have left their homes to perform devotional service or those who are performing it at home should perform Vyasa-puja after having become acquainted with these teachings and principles. In this way, one should try to please Srila Rupa Gosvami and Srila Gurudeva, and under their guidance try to please Sri Krsna, or Sri Caitanya Mahaprabhu, who is the original Vyasa. This alone is the true meaning of Vyasa-puja.
Gaura premanande!
Translated by the Rays of The Harmonist team
---

Rays of The Harmonist On-line, Year 1, Special On-line Edition by Sri Srimad Bhaktivedanta Narayana Gosvami Maharaja , is licensed under a
Creative Commons Attribution-Share Alike 3.0 Unported License
to ensure that it is always freely available. You may redistribute this article if you include this license and attribute it to Rays of The Harmonist. Please ask for permission before using the
Rays of The Harmonist
banner-logo.